Wednesday, August 10, 2005
Blues Analysis/Update: McAmmond, Salvador Sign.
The
St. Louis Blues
finally managed to get themselves a winger who can play on the second line when they signed UFA
Dean McAmmond
. (
TSN STORY
)
McAmmond spend last year with Albany of the AHL, and gives the Blues a decent two-winger with great speed and hands of cement.
His production and skill level is more suited for the 3rd line, but he'll play a bigger role with the Blues out of necessity.
04-05
Albany (AHL)
79GP 19-42-61 -1 72PIM
03-04
Calgary (NHL)
64GP 17-13-30 +9 18PIM
02-03
Colorado (NHL)
41GP 10-8-18 +1 10PIM
01-02
Calgary (NHL)
73GP 21-30-51 +2 60PIM
Strengths
: Has blinding speed coming down the wing. Is versatile enough to play any forward position. Displays sound two-way ability.
Flaws
: Has a lot of difficulty finding the net on a regular basis and goes through lengthy scoring droughts. Has a propensity to get hurt because of his all-out style.
With McAmmond in the fold,
Salvador
agreeing to a new 3-year contract, and
Boguniecki
accepting his qualifying offer, here is an updated look at the Blues roster as it stands today. After reading the CBA some more in greater detail, I believe the qualifying numbers in the spreadsheet are now more accurate.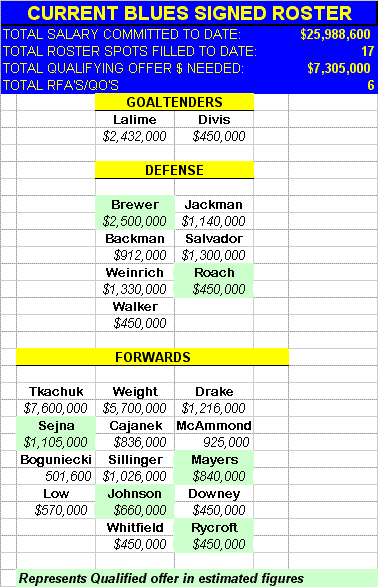 The Blues have a minimum salary commitment of
$33.3mil
if they resign their RFA's at the bare minimum. Given this figure and the remaining UFA's in the market (not much left), it doesn't look like the Blues will be able to add one more solid forward to the ranks. The Blues could actually half a decent outside shot if they added one more average 2nd line winger. The goaltending should be at least average, and the defence looks at least average with some good upside to rise above that watermark.
Larry Pleau's
biggest task will be to get
Eric Brewer
signed to a long-term deal at a reasonable cost.
Jamal Mayers
and
Marc Rycroft
will have to decide whether to take their QO's or take their changes with offer sheets from other teams. Since I can't see any other team making an RFA offer for either of them, I would expect them to sign their QO or a contract for very similar numbers.
Comments:
hmmm blues speculation 101
hey how come booger is our best rw?!? we are dead! lol
and yep the team is so bad lots o' us are trying to figure out who the captain will be, and starting a pool about when the official announcement of al's retirement will come about.
by the by, i'm on the kt will be "c" bandwagon since he is only expensive forward we will have next season , was a crappy captain for a crappy team in the past, speaks american, and if one of the icons fox sports midwest picks to use to represent the blues for their commercials..
but there are strong "dougie weight shines on leaderless teams so give him back a "c"" contengencies
as well as a "hey lets screw up the developement of jackman like we did with pronger and give him a "c" before he has earned it"
and of course the most sane of all "oh please you don't need a c on your jersey to be an on ice leader who cares who wears what, dallas drake will take care of things in the room and in the corners" until his busitus kicks up and his cataracts make it had for him to find opponents that is...
Dirty Dallas as Captain? Nein
Captain Tkachuk? ugh... he's not cut out for it. I would give an A to Weinrich, for sure.
Weight is the obvious choice, IMO... he did a decent job with Edmonton...he's the elder statesman, and you are right about Jackman not ready for such a responsbility.
Post a Comment
<< Home