Monday, August 01, 2005
A Banner Day for Hockey Rants
You have all undoubtably noticed the new title banner at the top of the page. I figured
Hockey Rants
needed a new, more personalized, look. I plan a few more tweaks here and there, but the content will remain just as good/bad as always.
Many thanks to the
world's biggest Ron Francis fan
, 'Stormbringer10', for the awesome banner. You can visit her website
here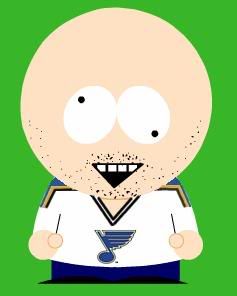 I've driven South Park Pavol crazy with my ranting and raving...oh, dear!
---
Editor, writer, and ladies' man
James Mirtle
has chimed in with his
Draft Day Winners and Losers
. Mirtle agrees that the Habitants made a big mistake in passing over
Gilbert Brulé
for
Carey
, the
Price
is wrong!
Over at hfboards.com and other combines, fans are jumping off of bridges and out of windows after the Habs picked
Carey Price
. While I agree that the pick seems foolish,
THE CANADIENS DID NOT PICK CAREY PRICE TO REPLACE JOSE THEODORE NEXT YEAR!!
Stupid scribe
Steve Simmons
drinks the same Kool-aid
in his latest
:
What do the Montreal Canadiens know about Jose Theodore that the rest of us don't know other than his pending free agency? Why then use the No. 5 pick on a goalie yesterday?
The average goalie doesn't make a positive impact until they are at least 23, 24, or 25 (maybe later). By the time Price is ready for the #1 job, if we allow a 5-year development window, Theodore will be 34 and probably already out of Montreal.
Goaltenders take longer than any other position to develop fully, so the Habs obviously thought that Price was the best player available at that position. Price is not a special talent like
Roberto Luongo
, who could step out of juniors and dominate (or
Marc-Andre Fleury
until the Penguins shellshocked him). If the Canadiens were worried about replacing Theodore, they would be looking on the Free Agent market, not the draft table. Only a foolish team would ever draft based on finding parts to plug in the lineup in 1-2 years. Unless your name is
Sidney Crosby
, you aren't likely going to make a positive impact to an NHL lineup straight out of juniors.
Comments:
*bows* Thank you, thank you...oh, and you're welcome Jes. :) I noticed the banner yesterday, it looks even more awesome at the top of this blog! I do say I did a fine job meself... *pats herself on the back* :)
Post a Comment
<< Home