Monday, July 25, 2005
St. Louis Blues: Outlook #1
It was a strangely quiet weekend in the NHL, as only the
Philadelphia Flyers
were doing much of anything with the non-to-surprising buyouts of
Tony Amonte
and
John "Chocolate" LeClair
.
Where's the excitement? Where's the drama?
Over the off-season, I'll be focusing on the present and future of the
St. Louis Blues
as they try and continue their record-setting playoffs-made move into the new era without Captain
Al MacInnis.

The
St. Louis Blues
have two major problems with their roster that have been building for many years.
1.
The roster is top-heavy
: Currently, the Blues have
13 players signed at $24.1 million dollars
in salary, and this does not include the highly-paid
Chris Pronger
, who would be entitled approximately
$7.6 million
of the Blues qualified his contract. If the Blues did qualify pronger, they would have $31.7 million committed to 14 salaries, with
20.9mil (66%) tied up in 3 players
salaries with 8-10 roster spots to fill! No team is going to be successful with most of their payroll tied into 3 players.
2.
The Blues have very few good prospects in the pipeline.
For a few years now, the Blues have had a barren farm system thanks to some poor drafting, promotions, and trades. Heading into the new NHL, the Blues are in poor shape with very good quality young players to promote onto the pro roster. Therefore, the Blues will need to head out into the open market to fill quite a few spots if they hope to have any playoff hopes.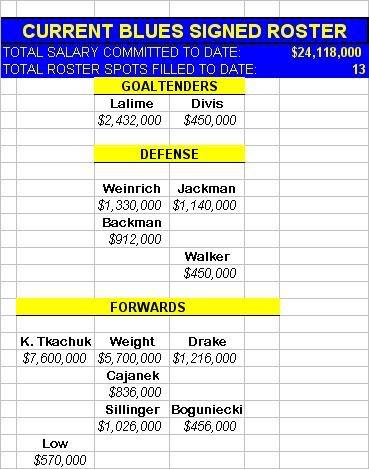 Restricted Free Agents
: Chris Pronger, Jamal Mayers, Ryan Johnson, Mark Rycroft, Bryce Salvador.
Goaltending
:
Patrick Lalime
is a bonafide #1 and
Reinhard Divis
should be ready for the backup role, if he chooses to come back to North America. Prospect
Jason Bacashihua
isn't quite ready to the backup role, so the #3 job (or possible backup) will likely fall to
Curtis Sanford
. The Blues are looking OK in this department.
Defense
: The Blues seem likely to sign
Chris Pronger
as he is a cornerstone player and would help carry the Blues defense corps. Pronger isn't as tradeable as he once was, but he could be dealt for 2-3 players if the Blues are looking to get quantity over quality. Overall,
Barrett Jackman
,
Bryce Salvadore
(who is RFA) and
Christian Backman
provide a good young core to build around while the wily Weinrich is pretty old but still a decent 3rd line player.
Matt Walker
is a tough fringe player who is not suited for anything other than the 7th man position. If Pronger comes back, the Blues will only need to sign 1-2 decent defensemen and they'll be set.
Forwards
: Unless the Blues trade Pronger, they are expected to buy out one of either
Doug Weight
or
Keith Tkachuk
. After those two, the Blues have some decent role players and a real lack of quality.
Center
:
Petr Cajanek
has been a disappointment offensively in the NHL, but he does have the real potential to be a good #2 centerman. Cajanek can also play on the wing, as he might have to with the current roster makeup.
Mike Sillinger
is an excellent faceoff artist and solid 2-way center, and he can man the #3 spot.
Ryan Johnson
is suitable for the #4 spot or he can be shifted to wing and allow prospect
Jay McClement
to man the #4 spot. If the Blues keep Weight and Cajanek can find his offensive game, the Blues will be at least average down the pipe.
Wingers:
If the Blues buy out Tkachuk, they will have absolutely no wingers with any pop in their guns. Without an outside fusion of free agent spice, the Blues will have an offence with less flavour than tofu.
Eric Boguniecki
and
Dallas Drake
have enough skill to play on the top 2 lines, but only as complimentary players to the real skilled guys. In the real world, they are both suited to the 3rd line.
Jamal Mayers
is all tools and no toolbox, and struggles to make himself a plus player even on the 3rd line at times.
Reed Low
is a 4th line goon, and
Mark Rycroft
is his partner in crime. Prospect
Peter Sejna
was once looked at as the solution to the offensive problem, but it's looking more and more like he will not provide any goal scoring at the NHL level.
To summarize, it's obvious that the Blues have one big decision to make in regards to the Big 3 players.
Once that decision is made, the Blues will really need to focus their efforts on finding some offensive-minded wingers, 2 solid depth defensemen, and possibly an upgrade at the #2 center slot
. With the current offensive configuration, the Blues could struggle to make it out of the bottom 5 teams for goals scored.
Tomorrow, I plan to look at the prospects in the Blues organization and how, if possible, they can help the Blues next season.
Comments:
and rumours are the kt will be KEPT. why? the blues woes are well known, and as i have been saying to the blues list, there is no single team in worse shape going into a new cba than st louis. post cba, I'm taking kudoes for being spot on.
HOWEVER. now add lame ducks and idiots, sauer and pleau in charge of a team on the block to a gambling web site. this means no moves are good moves. and while weight is almost a non-brainer and is likely to happen. mr 20% of the budget (kt) has a little team option for the following year, making the team more sellable with an "asset" under contract for the new owners first year at below market rate.
SOOOOO
badly chosen 'stars', traded youth to get those stars (though i do not believe pleau has missed with his drafting as a gm here, by the by), AND no reason to do anything to make any corrections for year 1 u.b.t. (under buttman's thumb)
what free agents would WANT to come to st louis? lol they can NOT outbid anyone, and luring someone to take same or less money to play for a team on the block with no coach and an absent owner??? no problem lol to bad steve durbando is no longer advailable to suit up; well in any suit that doesnt have a 7 digit number on it and vertical stripes. he would be a star for the blues this coming season. and we would probably pay him over a million anyway...
Post a Comment
<< Home