Sunday, July 31, 2005
Run for the Hills! Satan is Free!!
"For Satan always finds some mischief still for idle hands to do"
- Isaac Watts
"God dammit Dominik, put a shirt on!"
It seems that the
Buffalo Sabres
have not offered
Miroslav "Captain Slovakia" Satan
a qualifying offer, leaving him free to sign with any team he wishes.
Jan "Hero" Hrdina
and,
Vladimír Országh,
a Gőlbez favourite, also did not receive qualifying offers, leaving them free to be signed by any team. (
TSN Link
)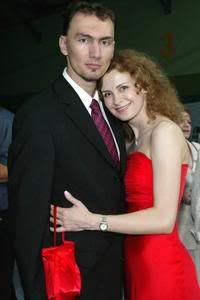 Now, Miro Satan has got to become a
New Jersey Devil
. C'mon Fat Lou, make it happen!!!
(Note to Dave Nonis, get off your pasty ass and sign Országh. Thank you.)
Comments:
Bettman's CBA is going to wrench away most of my favorite Predators before this is all done. No Orszagh, Erat isn't back...the "Vowel Line" was the heart and soul of our team, epitomizing the Nashville hockey identity of speed and determination. No need for a team identity now when you can just rotate guys in and out every year. Blah.
I hope the 'Nucks *do* get Orszagh - and that they beat Nashville every game they play, with Vlady scoring every game-winning goal.
Orszagh not getting an offer from Nashville makes me really sad as a Preds fan. He was always one of my favorites. My buddies and I nicknamed him Vladdy Hustle since he's one of the hardest workers in the game. He plays with real heart.
But then again, I understand why he wasn't signed, torn ACL and MCL at the same time... ick. Who knows when that'll get healed, might be another year before he's really healthy.
Post a Comment
<< Home