Monday, July 25, 2005
Brian Savage: The Hunt for Mr. October
The news that the
Phoenix Coyotes
bought out winger Brian Savage Garden
isn't at all surprising.
Savage, 34, was scheduled to make $2.85 million US this season. The Coyotes bought him out for $1.9 million, as per the new collective bargaining agreement which allows a one-time window to buy out contracts.
I got to thinking that one enterprising team may want to sign
Brian Savag
e to a incentive-laden contract. Given his past nickname of "Mr. October" for his great early-season goal scoring feats earlier in his career, it might make sense to sign Brian Savage to a contract, and then trade or dump him in December after the magic wears off.
...and then I decided to look at his splits for the past two seasons.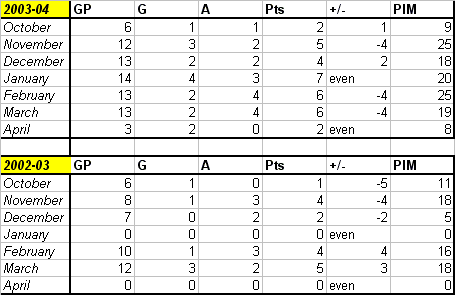 It seems Savage hasn't been living up to his Mr. October moniker the last two seasons. His production hasn't even been that special in November.
Note to GM's of any team I don't hate: Don't sign this guy!
What's the use of signing Savage when he's just an oft-injured, defensively challenged winger who no longer produces goals? I hope the
St. Louis Blues
aren't tempted to bring back Savage as a 'budget' signing.
Oh, and
Mr. October
is such a catchy nickname that I think I'll still continue to call him that. A player should never lose a great nickname.