Thursday, July 28, 2005
Blues Outlook #3: Overqualified!
The
St. Louis Blues
announced that they would be making qualifying offers to all of their restricted free agents. Yes,
Chris Pronger
and his monster self will be qualified for a monstrous $7.2mil
Blues scribe
Bernie Miklasz
provides a
good summary on the Blues current fix.
As the National Hockey League prepares to relaunch its product to a curious, if skeptical, public, the Blues are in an unfortunate, depressing situation. With the other NHL franchises busy making grand plans to celebrate a return to the ice, the Blues are in the corner, hands in pockets, looking rather glum.

The team is for sale. And until the Blues are sold, costs will be held down. The financial books are receiving a thorough cleaning. Blues management made the correct choice to retain forwards Doug Weight and Keith Tkachuk for one more season instead of burning money on buy-outs and letting them walk without compensation...

... no long-term player contracts will be handed out with the "For Sale" sign hanging at Savvis Center. I'm told by multiple sources that owner Bill Laurie has made it clear to Blues executives that he doesn't want the team's books cluttered with long-term salary obligations. Laurie undoubtedly concludes there's a better chance of selling the Blues quickly if a new owner can make a fresh start, with little or no inherited debt.
Well, a fresh start with a barren farm system! I can see why potential investors might want to stay away from this club. All of the payroll room in the world isn't going to help when almost the entire roster will have to be redone and there aren't many cheap prospects on the farm that can provide an in-house solution (See my rant from 2 days ago)
I decided to plug in the numbers and see how the Blues roster would look like if all of the qualifying offers were accepted. I do not know the exact terms of
Andy Roach's
contract and I am a bit unsure of
Peter Sejna's
figure (He was paid a cool $1mil+, so he's an expensive little bugger). My figures won't be exact, but they'll be damn close enough.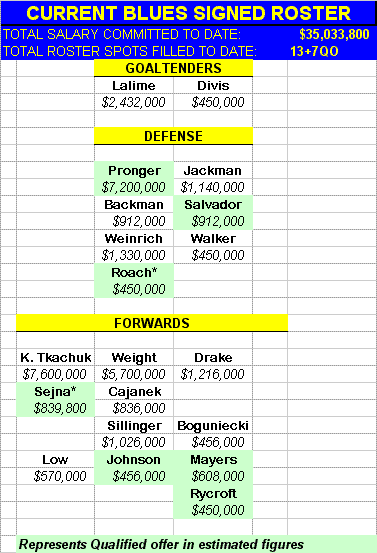 As you can see, the Blues have $
35million(!) commited to 20 players
...and the Blues still need a real 2nd line! Don't expect it to be so easy for the Blues just so sign all of these guys to their qualifying offers.
Bryce Salvador
could make a good case that he's worth more than a million greenbacks a season.
The Blues have no room to fill out the rest of the roster with anything but the worst of the free agent bargain bin. Thus, there will be lots of speculation as to the future of Chris Pronger. The fact is, ONE of the THREE big contracts will have to go if the Blues want to run a full team: One that has SOME chance of making the playoffs.
...Dark days ahead...
Comments:
I think it's clear that St. Louis will be looking at trading Pronger. Of their big three salaries, he's really the only commodity that another team would be willing to pay $7 million+ on.
Post a Comment
<< Home