Friday, June 17, 2005
Pop open another Jaegermeister!
Jaromir Jagr
was been named
European Player of the Month for May by Eurohockey.net!
Jags was instrumental in leading the Czechs to golden glory with his 'heroic' effort of
2 goals and 7 assists in 8 games
. Jagr sustained a broken pinky finger in a game against Germany, but didn't let that stop him from being the force that we were used to him being in his Pittsburgh days.
Personally, I would have given the award to Tomas Vokoun and his lovely 7-1 record with a sparking 1.08 GAA and 95.26 Save Percentage.
Just another reason why democracy doesn't work ;)
Jagr adds this award to the millions of other little trophies he's piled up over the years...including the infamous triple crown (
Stanley Cup, World Championships Gold, Olympic Gold)
:
"There are not many players who have it and you have to be lucky to play on great teams to accomplish that. Erich Kuhnhackl was a great forward, but he was never able to reach this while playing for Germany. Marcel Dionne was a superstar for 19 years in the NHL, but he was never on a team that won the Stanley Cup. For most Canadians and Americans, the Olympic gold was something they could start dreaming about just recently. As I said, you have to be lucky," Jagr told IIHF after the final game.

Also team mate Jiri Slegr joined the Triple Gold Club.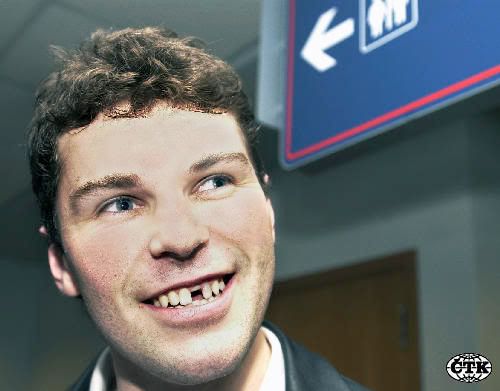 ...no wonder the ladies love him...
Comments:
Being a Predator fan I'm with you! You're making me drool with anticipation of seeing Vokoun in net again in the NHL...
Post a Comment
<< Home