Thursday, June 09, 2005
Hockey Hall of Fame gets more Worldly
Quietly announced before the hoopla surrounding the acceptance of
Cam Neely
into the HHOF was the opening of a new
International Hockey Legends
section to the World Hockey Zone.
The Hockey Hall of Fame today officially opened its newly expanded Royal Canadian Mint World of Hockey Zone, proudly recognizing the globalization of the game of hockey. Developed in partnership with the International Ice Hockey Federation (IIHF), the World of Hockey Zone, originally opened in 1998 at a cost of over $2.5 million, features $750,000 in recently completed renovations and an additional 1,000 square feet of floor space expansion, including a new IIHF Honour Roll.

The newly expanded World of Hockey Zone features histories and exhibit materials from all IIHF member countries. Prominence is given to World and Olympic championships, including a display paying tribute to the contributions of the Czech Republic, the reigning World Men's Champions.
This is great timing given the lack of NHL hockey and the soon-to-be induction of the deceased
Valeri Kharlamov
.
I just wish this expanded section was open when I was at the HHOF 2 years ago. I know I would have spent a good hour or more perusing over every item of this expanded shrine. It's hard to get great access to International hockey information in English and also view some of this history face to face. One of the topics that some pundits bring up is that the HHOF should not be exclusively for the NHL's history, and players such as Kharlamov, who have done great things in the WORLD of hockey, should also be included somehow in the hallowed halls.
While I was at the HHOF, I was impressed with the collection of International sweaters in the World Hockey Zone. It was quite a sight to see Ireland's 'Harp' uniforms and other hockey uniforms from countries such as Thailand and South Africa.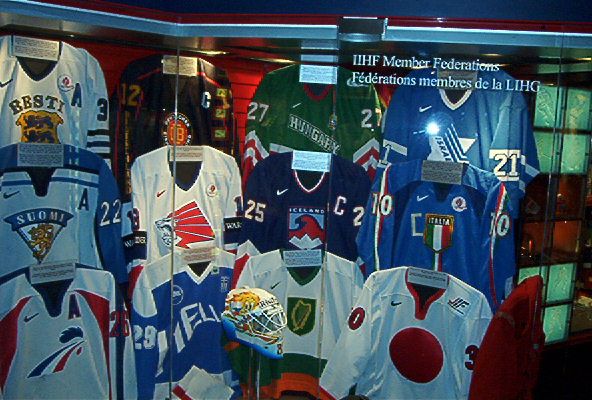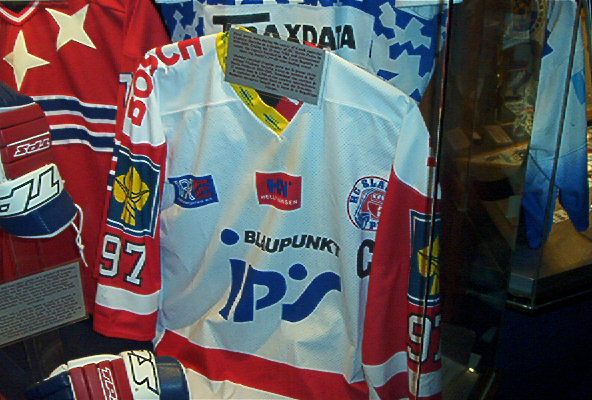 I also got to see one of
Vladimir Ruzicka
's old
Slavia Prague
sweaters (in the above picture). I was almost tempted to break the glass and steal it for myself :)