Thursday, June 16, 2005
Buffalo's Vision Collapses
Today's photo of the day...an oldie but goodie.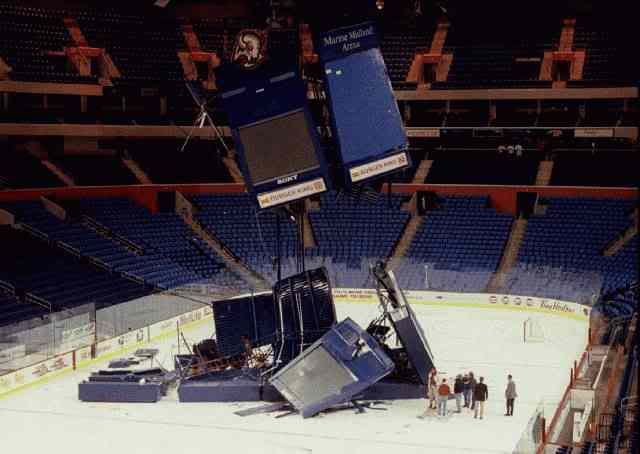 Comments:
Here is the original story...
---
By Mary Kay Melvin - September 16, 1996
The scoreboard at Buffalo's new $127.5 million HSBC Arena (at the time called Marine Midland Arena) crashed onto the ice, hours before the NHL game between the Sabres and Boston Bruins. There were no injuries.
The game was postponed (it has been rescheduled for March 17, 1997) and may have been good for a few yuks. But what if that happened during a game?
The $3 million Sony Jumbotron fell between 1:30 and 2 p.m., about 90 minutes after Bruins assistant coach Cap Raeder and defenseman Jon Rohloff left the ice after a practice.
"It (the scoreboard falling) does cross your mind, especially when you see it being lowered so they can work on it," said Bruins winger Jeff Odgers. "The thought does go through your mind - that thing could fall, with me under it."
Boston defenseman Dean Chynoweth said, "When we came in (to the arena) one of the guys looked up at the scoreboard and said, 'Holy smokes, look at the size of that thing. Can you imagine what it would be like if that thing ever came down?'"
Sabres president Larry Quinn had the comforting news that the mishap was caused by the scoreboard moving, so it wouldn't happen with anyone on the ice. He added that no one is allowed on the ice. He added that no one is allowed on the ice when the scoreboard is being lowered, which is done by remote control.
Many of the Bruins thought it was a joke when they heard the news. Once it was clear no one was injured, the accident was good for a few laughs.
"From now on, we stay wide," said Jozef Stumpel to Rohloff, his defensive partner.
Post a Comment
<< Home