Thursday, May 05, 2005
World Championships: Canada's First Midterm
After shaking off some winter rust with warmup matches with
Latvia
and
Slovenia
, it's time for the Canadians to have a real test:
The United States of America
(Cue Darth Vader Muzak)

As Lyle "Spector" Richardson points out
, the poor American fans who care about hockey won't even get a chance to see that game unless they fork over $5 to watch it online.
...in Canada TSN is televising a game per day, even on days when Team Canada isn't competing. While this tournament likely won't create the same excitement for Canadians as the Stanley Cup playoffs, last fall's World Cup of Hockey or this past January's World Junior Hockey championship it should nevertheless provide Canadian hockey fans with a much needed fix.

If you needed more evidence as to how hockey has fallen off the radar of the American sports fan, look no further than the lack of coverage for this tournament.
Unlike previous years, the Americans have a quality and exciting team to watch. The products of a revamped and much improved American National program are starting to blossom -
Rick DiPietro
,
Brian Gionta
,
Ryan Suter
, with phenom
Phil Kessel
and talented JP
Parise
not too far behind - yet the American fans will miss out in favour of Poker and NBA Basketball (zzzz.........)
You can read the IIHF/IWHC preview
here
.
Canada will count on a new version of the 'Grind Line' with
Ryan Smyth
joining
Kirk Maltby
and
Kris Draper
to shut down opposing forwards, while
Dany Heatley
is still looking for his first goal of the tourney.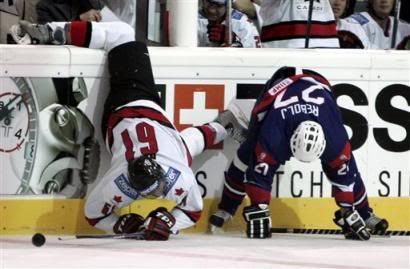 Michael the Hockey Fantatic
sent me this picture. It looks like Team Canada is trying some newfangled yoga regime in order to get into game-shape.
---
Slovakia
had one of those 'stat-padding' efforts yesterday as they beat the host
Austrians
8-1.
I was actually a little nervous about Slovakia coming into this game. Slovakia has had a very poor record against poor teams in recent years. The Slovak players have tended to worry more about their individual stats rather than team play. This was so evident in their memorable loss to the
HUNGARIAN
team over a year ago. Slovakia may be considering one of the 'Power' teams, but they don't always play that way.
Two bits of 'bad' news for Slovakia

i.
Lubos Bartecko
had to be helped off the ice halfway through the second period, after twisting his right leg while being kneed by Austrian
David Schuller
. Bartecko took a shot off of his ankle in last year's tournament and watched it swell up like a pregnant
Britney Spears
, so he's had a run of bad luck at this thing. Expect
Vladimir Orszagh
to get more ice time in his absence.
ii.
Zdeno Chara
has had troubles with speedier forwards, according to my pal Daniel. Chara seems to be one of those rare Europeans that do much better on the smaller ice surface than the larger one. The big-ice acts an equilizer for the Slovak defence in that guys like
Radoslav Suchy
are better than they are in the NHL, while Chara isn't quite 'Norris' worthy when there is more room for the little people to escape from his reach.

Steroids at the World Hockey Championships:
The IIHF announced today that Ukrainian defenseman Oleksandr Pobyedonostsev
has been disqualified from the 2005 IIHF World Championship due to a positive doping test. He becomes the second player to be sent home for steroid use.
Kinda makes you go 'hmmm.........'
Comments:
I love Spector's comment "When the lockout ends, most American NHL fans will return, but not all of them, especially in the cities deemed "small market backwaters"." Nevermind that Cup Finals ratings were higher in the "small market backwater" that I live in (Raleigh, NC) than they were in such "hockey hotbeds" as Minnesota and Detroit.
*snort*
Post a Comment
<< Home