Sunday, May 15, 2005
WC: Defeat Served Upon a Silver Platter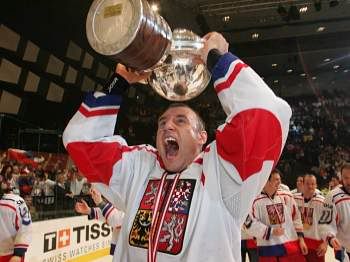 The
Czech Republic
played the 'best' team game throughout the tournament and got outstanding goaltending from
Tomas Vokoun
...so it was only fitting that they are the 2005 World Champions!
Czechia 3 - Canada 0
Splattered Thoughts:


It was a really chippy game...Ryan Smith trying to lumberjack Jiri Fischer's ankles near the end of the game was really low-class and reeked of Sore Loser Syndrome.

Swedish referees are teh suck

Whatever alien invaded Tomas Vokoun during his stint in Czechia must be safe on his/her home planet. Vokoun has been his 'usual' self ever since he went to Finland for a spell

Martin Brodeur = weak. That long bomb by Rucinsky was a nice shot, but Luongo would probaby have made that save.

They kept showing this hot, but crazy, Czech girl in stands (sitting on the stairs actually) cheering on her team like a schitzophrenic poodle. It was kind of annoying seeing the same girl after about the 50th time. Still, if she ever wants to date a Team Slovakian fan, she can email me anytime ;)

Given how Canada fielded a team of players who weren't in great game shape and the loosey-goosey style they employed, a Silver medal is certainly a good result. I can't say that I'm very crushed that they lost this game...
After the game, the tournament awards were handed out, and Canada's
Joe Thornton
was the big winner as Tournament MVP after leading the tournament with 16 points (6+10) in 9 games.
Best Goalie
:
Tomas Vokoun
, Czech Republic
Best D-man
:
Wade Redden
, Canada
Best Forward
:
Alexei Kovalev
, Russia
Media All-Star Team
Goal:
Tomas Vokoun
, Czech Republic
Defense:
Marek Zidlicky
, Czech Republic and
Niklas Kronwall
, Evil Sweden
Forwards:
Rick Nash
and
Joe Thornton
, Canada &
Jaromir Jagr
, Czech Republic.
Jaromir Jagr
and
Jiri Slegr
also captured the 'treble' and now have Gold in the
Olympics
and
World Championships
to go along with a
Stanley Cup
ring.
Back to Jagr...I know Caps and Rangers fans are asking
"Why couldn't he play with this much vigour with our teams?"

Jagr finished with 2 goals, 7 assists, and 1 broken finger in 8 tournament games. Instead of infecting the Czech squad with "Jagr Syndrome", Jagr displayed the on-ice leadership and fire that numerous coaches have failed to dig out from under that mass of curly hair.
So, what inspired him now?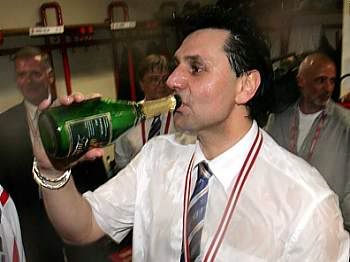 My theory:
Vladimir "Rozy" Ruzicka.
Back in the
1998 Nagano Olympic Games
, it was widely whispered that it was Ruzicka, Jagr's captain and centerman, and not coach
Ivan Hlinka
, that was able to 'control' Jagr and get the big oaf to buy into the Hasek-is-god defensive system the Czechs used to beat everyone.
Now in 2005, Ruzicka is the coach for the Czechs and Jagr was playing with the same level of fire and focus that he showed in Nagano.
It's a weak theory, but do you have something better? Probably not ;)
---
As you can imagine, I did get some satisfaction out of seeing
Russia
beat
Evil Sweden
for the Bronze Medal by a
6-3 count.
Sweden goes home empty-handed after opening the tournament with such promise.
Sweden forgot some very basic rules for success in International competition.


1. Always bring strong goaltending.

2. Don't get into a firefight with the Russians.

3. Don't let Maxim Afinogenov and Alexander Ovechkin stickhandle through your entire defense.

4. Don't expect Daniel Alfredsson to come through in the clutch.

What's left for this 'season'?
The Memorial Cup!
The
London Knights
,
Ottawa 67s
,
Kelowna Rockets
, and
Rimouski Crosbys
are your Memorial Cup competitors and I'll be sure to have some stuff about this fun tournament in the days to come.
Comments:
Hey now, don't be catty. :) I assure you I don't go out of my way looking for Martin Rucinsky's personal status.
And I dunno if that would help or not. I'm about as far from being a Czech model as you can get, who knows what requirements they have in their pretty little heads?
Post a Comment
<< Home