Saturday, May 21, 2005
Prospecting Time
There hasn't been quite the same anticipation for the
Central Scouting Service'
s final prospect rankings this year due to the cancelled draft and lack of interest in hockey in general.
Still, life goes on for scouts, publications, and the prospects themselves.
For the heck of it, I decided to compare the Top 10 of the 3 most notable scouting publications (Red Line Report, ISS, and McKeen's) on the market.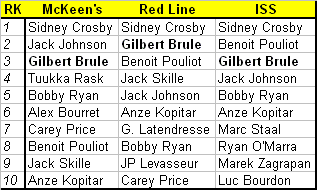 Like last year, ISS is not afraid to be a little different than the 'mainstream'. ISS was one of the few sources who went out on a limb and ranked
Andrej Meszaros
extremely high (4th overall!).
It seems their intuition paid off as Meszaros made a lot of GMs and scouts look bad for passing up on him. Will there pet Slovak from this season,
Marek Zagrapan
, make GMs and scouts look equally foolish?
I'm not as high on Zags as I am on Meszaros, but Marek has great offensive potential and not many of his peers (other than the top top top guys) can say the same.
---
Memorial Cup
Today's firestarter has the high-scoring
Rimouski Oceanic
and the high-scoring
London Knights
facing off. Both teams were ranked 1-2 in the CHL's rankings and this seems to be the premier matchup.
TSN has a good preview,
right here.
Fans in the northwest USA will be fortunate to have the opportunity to watch the Memorial Cup games on Comcast Northwest.
Memorial Cup on CNW14 Air Times - All Times are Portland, Pacific Daylight Time:
Saturday, May 21 - Rimouski vs. London - 4:00 p.m.
Sunday, May 22 - Ottawa vs. Kelowna - 1:00 p.m.
Monday, May 23 - London vs. Kelowna - 4:00 p.m.
Tuesday, May 24 - Ottawa vs. Rimouski - 4:00 p.m.
Wednesday, May 25 - Kelowna vs. Rimouski - 4:00 p.m.
Thursday, May 26 - London vs. Ottawa - 4:00 p.m.
Friday, May 27 - Tiebreaker Game, If necessary - 7:00 p.m. **
Saturday, May 28 - Semi-Final Game - 6:30 p.m. **
Sunday, May 29 - Championship Game - 6:00 p.m. **
** - Tape and Delayed for local airing