Wednesday, April 13, 2005
Kudos to Kronwall - Slovan Denied
Detroit Red Wings defensive prospect
Niklas Kronwall
has been named the
Eddie Shore Award
winner for the 2004/05 AHL season.
News Release Link
The Eddie Shore Award is given to the top defenseman in the AHL, and Kronwall is the first European defenseman to get the honour.
The six-foot, 190-pound Swede went into Tuesday's game against the Milwaukee Admirals leading the Griffins in scoring with 12 goals and 38 assists in 73 games. Kronwall, 24, would be playing for the Detroit Red Wings earning $950,000 US this season - at least 10 times his current pay - had it not been for the lockout. He was a first-round draft pick, 29th overall, in 2000.
I remember when the Wings selected Kronwall, and I thought
"Well, that was a waste of a pick. Say Hello to the next John Slaney!"

Kronwall was small, thought of as soft, and didn't seem like NHL material. Given my position on the smurfish
Lubomir Visnovsky
over the years, this seems rather foolish in hindsight.
Fast forward a few seasons and he has excelled at every level. Kronwall is not the next Lidstrom, like some Wings/prospects fans seem to be harping, but he's certainly good in his own right.
Say what you will about the Wing$ 'buying' players and buying success (
Hull, Hasek, Shanahan, Lang, Chelios, Schneider
, etc), Detroit would never have had such a long run of success without the amazing drafting and development record that they do. It also helps when a lot of moronic GM's pass on amazing talents like
Jiri Hudler
and they just fall into your lap at the 58th spot.
As an Anti-Wings fan, this just pisses me off :(...but give credit where credit is due...the Wings just rule when it comes to unearthing hidden gems and they make good use of their draft picks (Which are usually lower on the list).
---
Slovan DENIED!
I've been hard on Zvolen's line of
Orszagh-Handzus-Zednik
because they are three of my favourite players and I expect a lot (more) from them.
It was nice to see them get jiggy with it as they accounte for ALL 5 Zvolen goals in a
5-2 victory over evil $lovan Bratislava.
Slovan leads the series 3-2 as they head back to Bratislava for Game 6.
Handzus and his hair led the way with 1 goal and 4 assists. Zednik had 2 goals and 2 assists while Vlado Orszagh pitched in with a goal and assist of his own. Zvolen outshot Slovan 37-17 and was clearly in full desparation mode.
Miroslav Satan
, despite his recently invisibility, still leads the playoff scoring race with 14 goals and 6 assists in 16 games.
Richard Zednik
is 3rd with 9 goals and 9 assists in 15 games (Whiny
Zdeno Ciger
is in 2nd. Bleccch!!)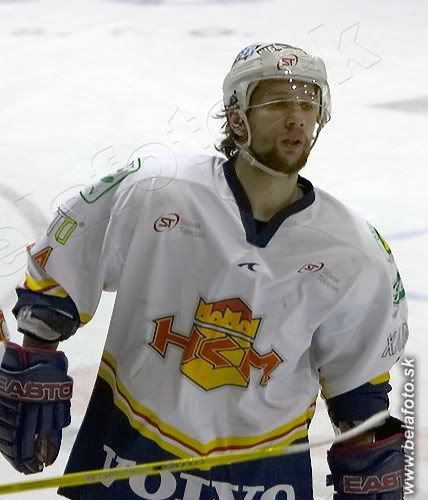 Vlado Orszagh
, on the other hand, has just 4 goals and 2 assists in 15 games. I know he's the defensive foot soldier for Zvolen, but he's clearly capable of more. Now would be a great time for him to just open up a can of offensive whoop-ass on Slovan.