Monday, April 18, 2005
The Devil gets his Due
It is fitting, in this season of cancelled NHL hockey, that the
evil
powers have dominated the European hockey scene.
Case in point:
Slovan Bratislava
, who captured their 5th ever league title (out of a total of 12 Slovak Extraleague seasons) with a
3-1 Game 7 win over HKm Zvolen.
Miroslav Satan
, the Prince of Darkness, had a goal and an assist in the deciding game. The oft-mentioned
Orszagh-Hanzdus-Zednik
trio went pointless in Game 7. All 4 of these guys, and
Lubomir Visnovsky
, don't have much time to rest as they are expected to join Team Slovakia as they prepare for the
World Hockey Championships
.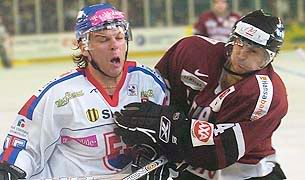 "It must be allergy season! "

- - -


Pelvis has left the building!
Playmaker extraordinaire
Scott Gomez
has won the 2004-05
Most Painful Injury
award after suffering a broken PELVIS. Gomez was slammed awkwardly into the bench door and his career as an Elvis impersonator is in serious jeopardy.
"Hey, anyone seen my pelvis?"

- - -


A Giant new Training Facility for Vancouver
The
Vancouver Giants
had to be raking in some serious coin this year with vastly increased attendance and corporate sponsorship. The hockey fans of Vancouver showed the Giants a lot of love this season when the Canucks and the NHL abandoned the people.
Therefore, it's great to see Giants owner
Ron Toigo
re-invest a large portion of these profits back into his team and the community with a new training complex.
"This summer, the Giants, in conjunction with the Delta Parks, Recreation, and Cultural Department, are investing $1.2 million for the development of current and future major junior hockey players with the opening of a new, state-of-the-art training facility at the Ladner Leisure Centre.

The new 8000-square-foot structure will include a 2700-sq-ft. weight room, video room, officies, and a new dressing room. The two-floor structure will have the weight room on the top floor, which will be open to the public. This new facility will be one that is sure to rival many work-out areas in NHL cities"