Wednesday, March 02, 2005
Slovaks Set for March Madness
The
Slovak Extraleague
has completed regular season play and the playoff matchups have been set.
It's been the craziest season ever, for sure.
The NHL and NHLPA have cancelled a season. NHL players have joined Extraleague teams, left Extraleague teams after short stints, and, in some cases, returned to the same team months later.
HKm Zvolen
won the league title with 107 points. They actually tied with Slovan Bratislava, but won on the tiebreaker. The rest of the standings have been pretty much been settled for a couple of weeks, and the playoff matchups (with my predictions. All series are best-of-7)...
Zvolen
(Orszagh, Handzus, Zednik)
vs
Liptovsky Mikulas
-
Zvolen in 5Slovan BA
(
Visnovsky, Satan)
vs
Poprad
(Suchy)
-
Slovan in 4Trencin
(Demitra, Hossa, Gaborik, Mezei)
vs.
Zilina
-
Trencin in 5Kosice
(
Bicek, Cibak
) vs.
Nitra
-
Kosice in 7
Really, only the
Kosice/Nitra
series has the potential for an upset. The other powerhouse teams shouldn't have too many problems if they don't get cocky.
A final look at the stats for the NHLers in the ST Extraliga.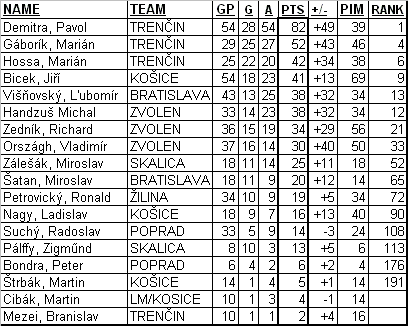 Congrats are in order for Pavol Demitra. Demo led the league in Goals, Assists, Points, and +/-!!! Demitra's 54 assists and 82 points are also new ST Extraliga records.
Can you say MVP? :)
The most amazing/strange stat of Demitra's is that he had only
20 Power Play points
and
4(!) Power Play goals
all season. For a Power Play at potent as Dukla's, I'm quite amazed at how few of his points were produced with the man-advantage.
Really, the two big disappointments from the ST Extraliga this year were
Ronald Petrovicky
(who was booted from Zilina for being a lazy bugger) and
Martin Cibak
(who was booted from Czech team Plzen due to arguments with the coach and poor play).
And just like at how
Marian Gaborik
and
Marian Hossa
played half a season and still finished in the Top 6 in scoring!! Gaborik's
5 Shorthanded goals
and
8 Power Play goals
led and tied for the league lead in those categories.
Crazy, crazy, krazy stuff...
Over in Czechia, they need to make up the postponed Znojmo/Pardubice game and then they will be all set to roll.
Trinec
did fire interim coach
Lubomir Pokovic
...I think he won 2 out of 20 games while he was there. I just stopped counting the losses after January :(
The stats from the final round of games...