Monday, February 28, 2005
Weekend Roundup: A Family Affair
It was a bit of a wild weekend in the
Czech Extraleague
as the season is almost complete.
In
this Vsetin-Karlovy Vary derby
, 39 year-old Russian defenseman
Alexej Jaskin
played the final home game of his career for Vsetin. Since Vsetin is far out of the playoffs, they decided to give him a unique parting gift:
The opportunity to play on the ice at the same time as his son.

Enter
Michail Jaskin
, the 13 year(and 3 month)-old son of Alexej. Michail dressed as a forward and played the first shift of the game together with his father. Needless to say, Michail is, by far, the youngest player to ever dress for an Extraleague match.
As you would expect when dressing a 13 year-old, disaster ensued!
Jan Kostal
of Karlovy Vary took quick advantage of the mismatch and scored on the first shot of the game! Now Michail is -1 for his Extraleague career...at least Michail and Alexej will always remember that shift ;)
I just wonder how low they can go? Will another Extraleague club try to outdo Vsetin and dress a 12 year-old?
In addition to the 2 Jaskins, Vsetin also dressed 2 Horak's and 3 Hruska's. Try keeping track of that scorecard!
---
Elsewhere in Czechia,
Litvinov
captured the 8th and final playoff spot with a 2-0 over
Hame Zlin
.
Plzen
lost 6-3 to
Liberec
and has been eliminated since Litvinov has the tiebreaker advantage.
The match between
Znojmo and Pardubice
had to be postponed due to both rosters being ravaged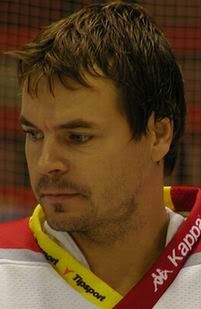 by the flu. This match will be made up later this week.
And
Richard Kral
(my hockey idol from Trinec) has declared that he will not be back with the team next year. Needless to say, I'm more devastated than the day I found out that
Terminator 2
would not win the Best Picture OSCAR.
---
ZLATA HELMA!
- The second-to-last set of videoclips is now online for your viewing and voting. Please go over to the
Zlata Helma site
and stuff the ballot box for entry #6. Thank you.
(Right-Click and 'Save As')
1.
Tomas Vlasak
turns Litvinov's
Kamil Jarina
inside out with more moves than a Michael Jackson video.
2.
Kamil Jarina
looks a lot better in this clip as he does a pretzel twist to make the save.
3.
Martin Hamrlik
(bro of Roman) sets up
Jaroslav Balastik
with a loooooooong pass.
4.
Martin Chabada
rips a slapshot (from about 5 feet away) past a poor Vsetin goalie (Stefan Zigardy?) who probably crapped his pants.
5.
Milan Kraft
has had a poor year, but he does get on the highlight reel for starting up this 3-way combination play.
6. Former Vancouver Giant
Robin Kovar
makes a skillful mid-air deflection in one of his three goals versus Pardubice.
...and the stats from the last round of games...