Saturday, February 19, 2005
Freaky Friday in the NHL plus a Special Edition EuroUpdate
For once, I decided to take a nice one-day break from all things hockey. I really didn't read any hockey news and didn't surf around too many websites and blogs.
Given the strange events of yesterday and the end result (nothing has changed), perhaps that was a good decision (or, like Samuel Adams Beer is was
"Always a Bad Decision!").
Of course, now I'm out of the loop like a drunk
NASCAR
driver.
Yeah, so the sides were apparently talking,
Wayne Gretzky
and
Mario Lemieux
got involved, and all signed pointed the season being un-cancelled. Net result?
Nothing, yet...but they'll be meeting again today
Let's see what
TSN Insider Bob McKenzie
has to say to
summarize the events of yesterday.
"It may have been the most bizarre day in NHL history."
Whoa, Bob, calm down and cut back on the caffeine!
"First came news that the NHL and NHLPA would meet in New York City on Saturday morning, the first formal communication since the two sides exchanged terse letters on Tuesday night. Ostensibly, the meeting is taking place because of a groundswell of activity from some owners, some general managers, some player agents and some players who believe this season can be 'un-canceled' as quickly as it was canceled on Wednesday."
Gőlbez
, in his best villain voice,
"Desperate fools! Why do you struggle? There is no hope for you now!"
Not long after that news broke, the Hockey News website posted a stunning story, quoting an unnamed player as saying the NHL and NHLPA had reached an agreement in principle, suggesting Saturday's meeting would see the cancellation reversed.

That basically turned the hockey world upside-down.

As the NHLPA put out a release described the story as "totally false", many in the hockey world from players, to agents, to team personnel, were talking it up as if the deal was virtually done. But as the night wore on, the reality started to dawn on people - the deal isn't done.
Hmm, sounds like
The Hockey News
is getting its 'news' from
Pelle Eklund
. They should know better than to trust a Swede.
All this optimism was clearly misplaced on Friday. That isn't to say the NHL and NHLPA can't pull a rabbit out of the hat, but it's not nearly the slam dunk so many people are suggesting now that the two sides are going back to the table.

All we know for sure is the two sides are meeting, the dynamic has changed somewhat with the addition of people like Gretzky, Lemieux and Gartner, but remember one thing - until further notice, the season is still very much canceled.
In other words, much ago about nothing...

OK, I'm not really on the fence any longer.
I do not WANT them to succeed
in time for a stumpy 28-game, 20-game, or 10-game season. Yes, I would still watch the games, but I really don't want the NHL tarnished in such a manner.
To quote KC and his Sunshine Band:
"Na, na, na, na, na, na, na, na, na, na, na
Baby give it up
Give it up
Baby give it up"

Work out the CBA, take all summer if that is what it takes. Fix the problems on the ice, call the damn obstruction penalties, and then find some leadership within the NHL that can understand both the off-ice aspects of the game and one who can make sure the on-ice product is improved.
My dream utopia involves a good CBA and an 82-game season, complete with slight rule changes and a true committment to curing the obstruction plague.
---
EuroUpdate: A look at the Slovak season to date.
What about the Europeans?
Would (m)any of them tell the NHL and their teams to flip off? Could they?
I'm saying this because all of the Euroleagues are nearing the start of their PLAYOFF seasons. If I am a fringe or 3rd line European player, like
Jaroslav Svoboda
or
Josef Melichar
, I might just tell the NHL to 'Wait until next year'. I wonder if the fans would throw a mini-revolt if their NHL stars (except the
Jaromir Jagr's
, because they are rich mercenaries and are expected to bolt) left their clubs so close to the playoffs.
Over in Slovakia, there are just
5
games to go before the playoffs start. Here's a good run through of the Slovak teams thus far.
Checking out the standings...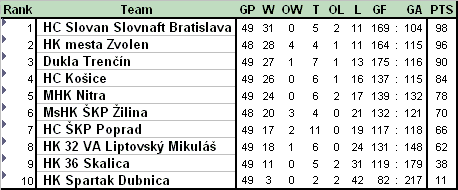 As it stands right now, the top 4 contenders are pretty much the clubs with a strong NHL and national team player presence.
1. Evil $lovan Bratislava has really done their damage without a lot of NHL help. Lubomir Visnovsky has been with the team only about 3/5 of the season due to a knee injury, and Miroslav Satan only arrived in January. Slovan has just done their damage the usual way: Buying the best players from other Slovak teams. It is very surprising to see $lovan has the best defensive record, and have been getting exceptional goaltending from former national team (and national joke) Pavol Rybár.
2. If you an offensive-minded Slovak forward, then Zvolen is the place for you. The NHL line of Zednik-Handzus-Orszagh is actually more of the defensive conscience up front compared to the wily old offense-only veterans they have up front.
3. Dukla Trencin fell hard when Marián Gáborík and Marián Hossa went to Sweden for a vacation. Their head coach got fired, Demitra lost his hair (Oh, wait...), and they slipped down the standings. Now that Hossa and Gabo are back, Trencin's mechanical Power Play is once against wreaking havoc on the rest of the country. Last season, Trencin won the championship with great defense and team play. This season, it's all about the goals and the glory.
4. Kosice started off well when they had the services of Ladislav Nagy and Martin Strbak. They lost those two stars, but did gain the services of Martin Cibak and still have Jiri Bicek in the fold. Kosice is a solid team with many good Slovak-league vets. Their goaltending, however, is a big question mark.
5. Nitra hasn't had an NHL dress up for them this season, but have managed to surprisingly grab 5th place from the teams under them. Lubomir Kolnik, older brother of Florida's Juraj Kolnik, is the offensive leader for Nitra. Since they don't have the firepower to compete with the Top 4, they rely on an airtight defensive system (much like the Minnesota Wild). Nitra is a tough team to play against and will give fits to one of the Top 4 clubs in the playoffs (Kosice, at this point)
6. Zilina was expected to be higher than 6th, especially as they had the services of NHLer Ronald Petrovicky and a very underrated defensive crew. Petrovicky played himself out of a job, and now Zilina is going to be in tough against the loaded Top 4 clubs.
7. Dukla Trencin is known as a factory for producing NHLers, and Poprad could be called the factory for other Slovak Extraleague teams. Poprad is one of my 'pet' favourites, but have constantly lost talent to the richer clubs (especially $lovan). Poprad managed to squeak into the 7th spot with outstanding goaltending from Stanislav Kozuch (one of my favourites) and a solid defense (including Radoslav Suchy). It's too bad that Peter Bondra could only stay for 6 games (in which he had 6 points)
8. Liptovsky Mikulas - Same Story, Different Day - Every season, they have a pretty solid team. Every year, they sell what shred of talent they have to other Extraleague clubs. Every year, they don't get far in the playoffs. They did have Martin Cibak for the early part of the season, but like all good talent, he didn't stay with LM for long.
9.
Skalica - The league's biggest dissappointment, and team with my favourite logo in all of hockey. They had a horrendous start, even wallowing below pathetic Dubnica for a team. Miroslav Zalesak and Zigmund Palffy both played there for parts of the season, but even they couldn't pull their moribund teammates from any higher than 9th places. Secure in the fact that they won't fall anywhere near the depths of Dubnica (thanks to a decent 2nd half), Skalica basically sold its 'talent' to other clubs and will tread water until next year.
10. Dubnica - Pavol Demitra was born there, but wouldn't really want to admit that he is from the same town as one of the worst teams in professional hockey. 3 wins in 49 games and just 82 Goals For in 49 games? Now you know why Slovak Extraleague teams hold 'Guaranteed Win' nights during certain games of the season.
The standings probably won't change much at all in 5 games, but the effect of a possible NHL season could have a large impact on the playoff chances of certain teams.
Oh, and the usual stats from the last round of games...
Ivan Huml
has left the AHL and has joined
Kladno
.
Jaro Balastik
had another big night, and now has 30 goals on the year.
Comments:
I don't believe the NHL game will evolve in a good way until the Powers That Be make some changes and actually STICK with them. If the players return to the ice right now...say tomorrow (for a short season), we'll be subject to the same clutch-grab-trap defensive play we've seen the past few years. The NHL needs to make a formal and concerted effort to make the on-ice product better.
Michael, Milan Kraft is still a mediocre player in Czechia :)... Certainly some players are stars at home and not so much in the NHL (Vrbata), but it's not as if the euro players just came home and dominated the league. The leading scorer of the Czech League (Mikeska) is a guy who never played an NHL game. The quality of play, like Tomas Vokoun stated, is a lot higher than they expected.
Post a Comment
<< Home