Wednesday, February 02, 2005
EuroUpdate: Groundhog Day
'Betty' the hockey groundhog peeked out from her hole this morning and saw her dark shadow. Thus, there will be 6 more months without NHL hockey!






I think we're having Groundhog Pie for dinner tonight!
As the major European leagues saw the January 31st transfer deadline come and go, there were some last-minute deals that just got reported. Many of the players are taking the same "I doubt there will be an NHL season right now" attitude and signing with European clubs.
There will also be a break in the schedule at the European countries compete in various International tournaments.
Slovakia will be at the Pannon GSM Cup
while
Czechia will compete in the Swedish Hockey Cup
. Because of this, some of these new transfers won't make the debuts for their new clubs for a short time. The players and teams have filed 'registration' papers to register the transfers. If there is an NHL season, then they won't ever make an appearance for their new clubs.
Credit to Joeri at
Eurohockey.net
and my Slovak pal, Daniel, for helping me compile this information.
1.
Ray Whitney
has signed with HC Lugano (Switzerland)
2.
Nikos Dimitrakos
to Langnau (Switzerland, but If he can get a Greek citizenship bef. Feb 15)
3.
Sergei Samsonov
to Dynamo Moscow (Russia)
4.
Olaf Kolzig
to Berlin (Germany)
5.
Brad Isbister
and
Richard Matvichuk
to Slovan Bratislava (Slovakia). Talk about a major coup for evil $lovan.
6.
Ulf Dahlen
is coming out of retirement to be a bit player for Timra (Sweden). It is expected that he'll only play when they really need him.
7.
Mike Dunham
to Swedish team Skelleftea
It was a light pre-tournament schedule yesterday in Czechia. The lone game was the big Slavia-Sparta Prague derby which was won by Slavia by a 4-2 score.
Josef Vasicek
, who is having a fine season, scored the winning goal to give the 'good' guys the victory.
Slovakia had a full schedule, and it looks like a good 4-way battle for the championship is shaping up between
Slovan
(Satan, Visnovsky, Isbister, Matvichuk),
Zvolen
(Orszagh, Handzus, Zednik),
Kosice
(Cibak, Bicek) and
Trencin
(Demitra, Mezei, Gaborik, Hossa).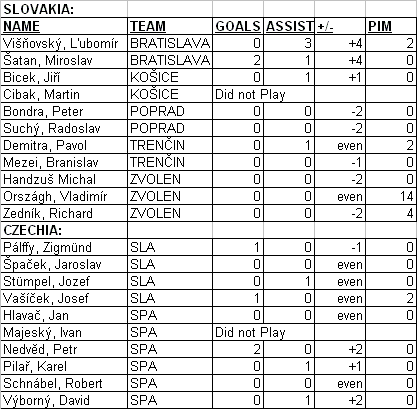 Comments:
Orszagh had 14 PIMS? Wow, way to go Little Slovakian Tank. Where's Erat on the stats? Keep up the good work Jes. Charlie
I tried to post this earlier, hopefully it doesn't double post. I love that the little Slovakian Tank (Orszagh) had 14 PIMS what was that all about? Also where are Erat's stats? Keep up the good work Jes.
Charlie
Vlado got a 10 minute misconduct in the 2nd period at the same time he took a slashing penalty...he was probably just whining about it :)
Martin Erat - Zlin didn't play yesterday (only 1 game).
Erat was demoted/changed off of the 1st line of Leska-Balastik and is generally now paired with Petr Cajanek.
Erat has 18 goals and 19 assists in 42 games this season...he sits tied for 8th in overall scoring.
Post a Comment
<< Home