Saturday, February 26, 2005
EuroUpdate: Czech Extraleague Playoffs Approaching
The Czechs and Slovaks are some crazy peeps, yo! The start playing exhibition games in August and then start their playoffs in early March. Unlike the NHL, they really like to get things over with quickly :).
This all coincides with the fact that European hockey fans eagerly await the
World Championships
and wait to have the best players available in the May tourney.
I think Europe, despite the EARLY start, really does it the *right* way. While the NHL continues to drag its' season longer and longer into the summer, the Europeans get their champions crowned in April. The WCs happen in May and then everyone has the nice late spring/early summer weather to enjoy playing tennis, golf, whatever under the sun.
IMO, it's very hard to watch hockey or get in a hockey mood when its hot and sunny outside. That's why my stay in Phoenix during late Feb/early March of last year felt so strange.
With just 2 games to go (3 for Vitkovice and Liberec, both of whom play today), let's check the standings table:
The Top 7 spots are all pretty much guaranteed with just a little bit of movement expected in the 3-4 spots. It's quite a testament to the talent of
Pardubice
that they overcame an early stay in the basement to rise up all the way to a tie for 3rd.
As you can guess, the real excitement is the battle for the eighth and final playoff spot between
Litvinov
and
Plzen
.
Now, I am not a big fan of either team, but I am torn somewhat. Litvinov has one of my absolute favourite players (
Jiri Slegr
), while my pal David is from Plzen and I have a soft spot for that team (and its great fans). I just wish that somehow
Vitkovice
could finish their last three games with 0 points and that
Plzen
and
Litvinov
could both squeak in.
Litvinov finishes off the schedule with road games against
Zlin and Vitkovice
while Plzen has a road game against Liberec and a home encounter against the deflated Znojmo Eagles. Give the nod to Plzen for the schedule.
Looking at the bottom of the table, we get the
Hockey Rodent's
favourite team,
Dukla Jihlava
(You can imagine why its not a good idea to pick a hockey team based on the fact that their logo looks like a beer bottle label).
If Dukla doesn't manage to get another point, they'll finish with a miniscule 20 points and tie the 2002-03 Havirov Panthers as the most futile team in Extraleague history.
To give credit to Dukla, their 5 wins currently beats the 4 wins the Panthers racked up 2 years ago.
(You are the weakest link, goodbye!)

My favourite team,
Trinec,
is safely in the 13th place spot which guarantees another year in the Extraleague. That's all I'm going to say about that...
Vsetin
was expected to finish right around the 12th place spot they occupy now. Although they had some NHL help with
Rostislav Klesla
,
Roman Cechmanek
(a part-owner),
Branko Radivojevic
, and
Radovan Somik
, the Vsetin club has a very young defense and not much depth overall.
11th place
Znojmo
is a favourite among many Slovaks for its proximity to the Slovak border and the great Slovak duo of
Peter Pucher
and
Marek Uram
. It's too bad that their legendary weak defense was even weaker this year when their 2 best dmen (
Snopek and Havir
) bolted to
Pardubice
in the off-season.
10 place
Karlovy Vary (Karlsbad)
is the one team that I wish would get relegated one of these days. Since their promotion in 1998, KV has *
NEVER
* made the playoffs and never finished higher than 10th place. Their uniforms are consistantly awful and they rarely develop a star prospect or any good players of any note (
Lukas Mensator
is one exception...while
Vojtech Polak
is turning into a total bust). Thus, their cycle of futility is going to continue for the distant future.
Like a cockroach, KV manages to avoid relegation and stick around like an unwanted pest.
I'll delve into the playoff-bound teams a bit later when things get settled in the table. With all of the NHLers, this ought to be the
BEST. PLAYOFFS. EVER!
(Except to those of us who can only follow over the Internet)

---
Other stuff for ya:
1.
Jaromir Jagr
was named
European Player of the Month by Eurohockey.net
- Check out
this great profile of the Czech Coach Killer.
Jagr says he is unused to spending so much time in the gym and that he is being made to skip, something he hadn't done since elementary school. Jagr has made it no secret he prefers an environment in which he is not restricted to too much orders and holds his own freedom to do what he wants on the ice.
The more things change, the more they stay the same...
2. The lockout and presence of NHL players has helped
Slovan Bratislava
break their attendance record with 137,704 fans pouring through the doors this season. Just another figure to put to rest that stupid rumour/fiction that the NHL lockout was 'hurting' the Slovak League and that the fans were angry at the NHL players.
3.
Martin Rucinsky
(Litvinov) is now done for the season. He has flown to Philadelphia to have an operation (I'm not sure what for, since the news release doesn't specify).
4. ...and now the boxscore stats from yesterday's games...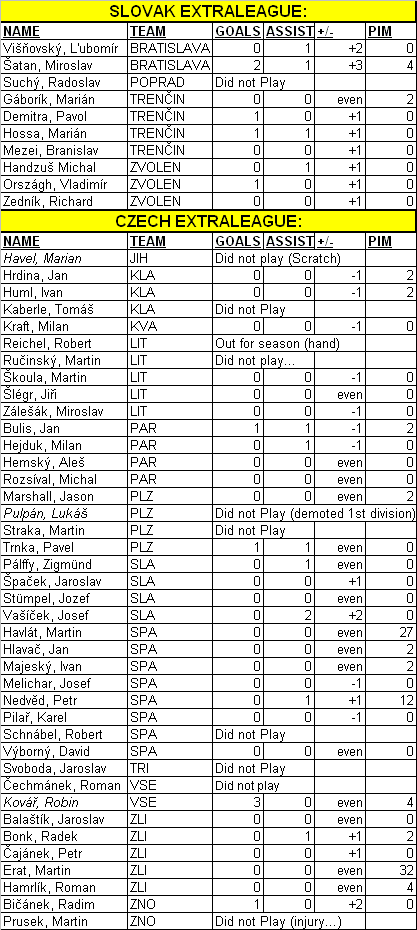 Comments:
I was thinking about this post today driving home through snow-storm from Vsetin, where they just finished their season today. It is not easy to finish your season in February. You mentioned world champs - but these players, who has qualities to play for national team, are almost elminated from chances to make their spot there, because playoffs will last for more than 6 weeks.
On one side, it is good to playworld champs in April-May and not prolong season into sunny days. But on the other hand, with all promotion/relegation systems here in czech hockey, it really makes minor leagues quit their regular season too early - 1st division teams, which not makes playoffs, finished their season on 14th February. It is devastating and frustrating for those minor leaguers, they had to play 52-game schedule between 15th of September and 15th of February - so they plays hockey only or 5 months a year! And counting, that these teams arent very rich, so they can not afford to keep real depth in the team, in case of any postponed game they do have really crazy schedule, even 7 games in 10 days. Furthermore, lot of players plays bot for junior and senior team and it may result to a situation, when 19 years old guy plays 70-80 games a season, which is comparable to NHL level, but for money, which in NHL goes to cleaning staff.
Personally, I would prefer more relaxed schedule during regular season and then best-of-five playoffs model. Best-of-seven could be sometimes so boring, especially when your team isnt involved...
Post a Comment
<< Home