Sunday, February 06, 2005
EuroUpdate: All Substance, No Hype
My Super Bowl Prediction
: Patriots 24 - Eagles 17, and one boring Half Time show.
Unlike our friends south of the border, us Canadians don't get the crafty and unique(?) American commercials. Instead of the much-hyped ads for Erectile Dysfunction pills, we get the exact same boring commercials that we see every day.
This has to be the one and only time of the year where I actually complain about the type of commercials we get. Why don't Canadian companies at least put out some interesting ads of their own during the Super Bowl? The first company to do this and stand out from the crowd could get an expected windfall of some sort.
Oh well...time for the EuroUpdate!
1.
The DEL (German Elite League)
held its annual DEL
All-Stars vs. German National Team 'All Star' Game
- The German National team won by a
9-7
score.
Rosters can be found
here!
Goal Scoring:
DEL All-Stars - Germany 7:9
(2:3, 2:4, 3:2).
13., 24. a 54. McLlwain, 38. a 50. Walker, 19. Julien, 51. Lebeau - 7., 39. a 45. Fical, 32. a 60. Hackert, 3. Furchner, 17. Kreutzer, 30. Kink, 37. Sturm.
I couldn't find an official boxscore for the game, but I'm sure
Andy Delmore
probably finished -7 or something.
2.
This Karlovy Vary/Plzen match
ended in a 2-2 tie, complete with a nice big brawl in overtime.
Radek Duda
,
Jason Marshall
, and
Pavel Trnka
of Plzen got into a nice 3-on-2 donnybrook with
Martin Hlavacka
(The Sandis Ozolinsh of Czech hockey) and
Vaclav Skuhravy
. Check out the photo evidence.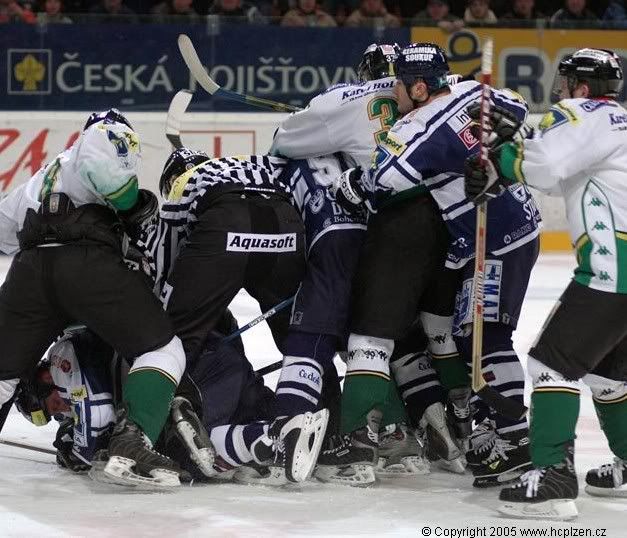 3. The
Danish League
has completed regular season play and
Herning Blue Fox
was the top team. PJ at
Sharkspage.com
may have more on Danish hockey if the lockout continues.
...and here are the stats from today's Czech and Slovak Extraleague games...

Comments:
Ugh! Advertisements on a ref's ass???? That's just about the lowest thing that European hockey has ever done! I hope the AHL/ECHL doesn't get ideas like that.
Walking bilboards!
Although, I just heard on the radio Monday morning that some pregnant lady had sold her pregnant stomach. For the rest of her pregnancy, her stomach will advertise for the boxing promotion website goldenpallace.com
There all advertising whores!! Whores I tell you! AAAAAAAAAAAARRRRRRRRRGGGGGHHHHH!
Post a Comment
<< Home