Monday, January 17, 2005
Omsk weasels away the European Champions Cup
"Jaromir Jagr comes through in the clutch!"
No, this isn't an ad for Viagra...it's actually true!
Jaromir Jagr
scored the overtime winner in a
2-1 thrilling overtime victory over Oulu Karpat
(The Weasels), which gives Avangard Omsk the first ever European Champions Cup title.
The winning goal came 14:38 into the 4-on-4 sudden-death overtime period when tournament MVP Maxim Sushinsky fed Jaromir Jagr with a neat cross pass which the Czech one-timed past Niklas Bäckström.
Of course, it was the least Jagr could do after taking 2 really dumb penalties in the 2nd period.
Maxim "Tuna Roll" Sushinsky (Sushinski/Susinskij, etc...) was the big star of the tournament with 4 goals and 3 assists in 3 games. Jagr only had 4 points and didn't even make the media All-Star team.
The media All Star team:
Goalie: Norm Maracle, Avangard
Defence: Oleg Tverdovsky, Avangard.
Defence: Josef Boumedienne, Kärpät
Forward: Maxim Sushinsky, Avangard
Forward: Jussi Jokinen, Kärpät
Forward: Andrei Kovalenko, Avangard.
Most Valuable Player: Maxim Sushinsky
Here is a photo taking at the game, courtesy of 'Itar'.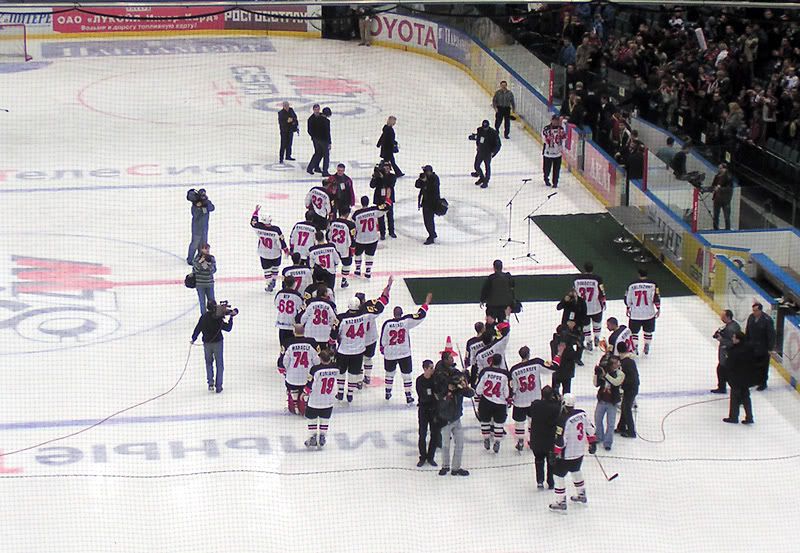 What comes next??
Well, with NHLPA mob boss
Bob Goodenow
giving the order to his minions to find whatever work they can, the European leagues will really get busy loading up for the stretch run. If my memory serves me correctly, all transfers and rosters must be set by the end of January.
Rumours and other tidbits (I'll try and get more in to depth when I have time):
Peter Bondra
– Finally committing to Poprad? (Slovak Extraleague)
Robert Lang
– Spurning the Czech Extraleague?
Branko Radivojevic
– Leaving Vsetin (Czechia) to join Trencin (Slovakia) for the playoffs?
Marcel Hanzal
– He should know the results of his 'B' sample by the end of the week.
Comments:
Oh god, you have no idea.
This is the man who wore--I am not kidding--a Nehru jacket WITH THE DISCO MEDALLION AND BELLBOTTOMS as his post-game attire once while here in R'lyeh.
I once caught him wearing this gawd-awful eye-burning red jacket (which I think he gave to Hurricanes TV color guy Tripp Tracy), matched with a wide red-and-black striped tie, pennyloafers, and black chinos...the day before he was spotted wearing (I am not kidding) a leisure suit.
I mean, I am not exactly the most fashion-conscious person on the planet--but I know a crappy dresser when I see one. :p
Post a Comment
<< Home