Friday, January 21, 2005
EuroUpdate: Forsberg is Fractured Again
Peter Forsberg
(aka Humpty Dumpty) is one fragile hockey player.
Eurohockey.net reports
that Humpty could be lost for the rest of the season after injuring himself in
Marcus Naslund's
homecoming. I'm sure the Avalanche officials are thrilled to hear that news.
Peter Forsberg was injured again. He will be unavailable for at least 6 weeks. Modo's team doctor Kim Thorsen fears a fractured navicular bone, in which case Forsberg will be out of play for the remainder of the season.
Currently, Forsberg is 2nd in league scoring to
Kristian Huselius
(wow...) with 13 goals and 26 assists in 33 games.
More and more, Forsberg is turning into a modern-day
Cam Neely
. Constant major injuries are derailing a fine career, and could keep Forsberg out of the
Hall of Fame
.
Does Forsberg have a good Hall of Fame Case? Without getting into the 'Gartner Test', it will be tough for Forsberg to make the HoF if he never plays another NHL game.
Regular Season
: 580GP 216-525-741PTS 544PIM
Playoffs:
133GP 57-97-154PTS 131PIM
Awards:
Calder Trophy (95), Art Ross Trophy (03), Hart Trophy (03), +/- Award (03), and 2 Stanley Cups.
In a low-scoring era, Forsberg has been one of the elite players when he has been healthy. There are few players that I would choose for my team in the playoffs, even if I hate the guy for being a whiny dive artist.
I could say the same for Cam Neely, but he wasn't the dominant 2-way player that Forsberg was/is known to be. Forsberg still has almost an assist-per-game ratio, so it's hard to ignore the fact that he was an incredible force during his peak. If he played some more and got to 800 points, I'd consider him a lock.
---
Speaking of injuries, it looks like Litvinov's
Robert Reichel
could miss the rest of the season if he gets an operation done on his left hand. As it stands right now, a loaded Litvinov team has been the league's biggest disappointment. How can a team with
Martin Rucinsky, Robert Reichel, Miro Zalesak, Jiri Slegr, and Martin Skoula
be out of the playoffs as it stands today? You can pretty much kiss their playoff hopes good-bye if Reichel is out for the remainder of the season, since Litvinov's offence has not been able to make up for a very weak defensive effort.
Of course, I don't think Leafs fans would be surprised that a team led by Robert Reichel would miss the playoffs :)
---
Are you excited about the Slovak vs. Czech Extraleague 'Stars Game'? Probably not...but neither are
Martin Rucinsky, Pavol Demitra, Vladimir Orszagh, Michal Handzus, and Richard Zednik
. All five of these guys are skipping the Stars Game, which makes me wonder if they know something about the NHL labour negotiations that we don't...
Meanwhile, the Extraleagues played yesterday due to the scheduling bump for the Stars Game.
Peter Bondra
brought the fans back in
Poprad
last night, as they played in front of around (edit: not 3,500) 5,500 fans. For a team that usually can't crack 2,000 spectators a night, this just shows that the NHL players can still be a draw. Bondra's Poprad beat Satan's Slovan by a 3-0 score.
...and here are the stats from yesterday's games.
SLOVAKIA: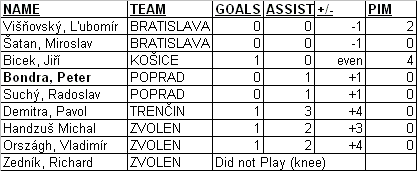 CZECHIA:

Comments:
since Peter spurned the Avalanche this year, maybe they are happy he's injured :)
I doubt Peter is finished with the NHL...he's getting his MoDo jones out of his system this year...and if he has enough health...he'll want another kick at the NHL can. He seems too competitive to give up.
Post a Comment
<< Home