Saturday, January 15, 2005
EuroUpdate: The Brendl is Back in Town
Our Finnish correspondant, Timpe79, reports that the
Pavel Brendl EuroTour 2005
is going back for an encore performance in Joensuu.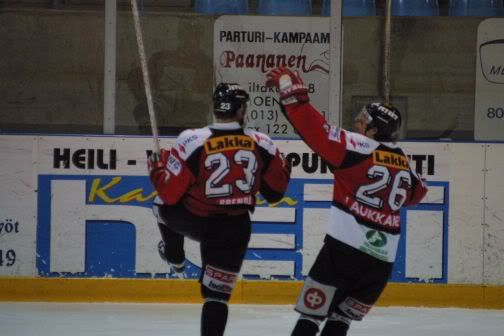 It might be hard to believe, but they love the guy!!
Reports Timpe79 (
excuse the broken English, he's still learning
):
Fans in there waits he like the rise of the sun for our poor power play etc... He plays earlier 9 match in here and he did 4+4 points, great result he´s plus/minus is +2 those games. He plays his first game tomorrow
I just wonder why Brendl went to
Thurgau
in the first place...
---
The IIHF
Super Six/European Champions Cup
is well under way and the Czech (
Zlin
) and Slovak (
Trencin
) entries are both out of it :(
On Trencin's side, it was no surprise that they were swiftly cast aside by the teams from better leagues.
Avangard Omsk
smoked them 6-1 on Day 1 and
HV71
(DAMN SWEDES!!) beat them 4-1 on Day 2. New (and THC-free) captain
Pavol Demitra
is not 'hoppy'.
As for Zlin, they barely edged a hearty Frankfurt squad by a 4-3 score on Day 1, and then they fell to Oulu Karpat (Weasels) 4-1 on Day 2. Thus, Frankfurt will play Oulu for the right to battle Omsk in the final.
Omsk demolished HV71 9-0 in front of the partisan Russian crowd.
You can imagine how happy this made me feel! :)
Jaromir Jagr
? He managed just 1 assist in the game.
Maxim Sushinsky
(of Minnesota Wild fame) had 3 goals and 2 assists while
Andrei "Tanked" Kovalenko
had 1 goal and 3 assists. Looking over Omsk's roster, the yhave quite a collection of NHLers and ex-NHLers:
Norm Maracle, Oleg Tverdovsky, Sergei Gusev, Jaroslav Bednar, Andrei Kovalenko, Alexander Perezhogin, and Maxim Sushinski. It's hard to compete with that kind of firepower.
---
The Extraleague schedule is extremely light due to the Super Six/ECC tournament. There were no games in Slovakia and just 2 in Czechia. Here are the stats: