Wednesday, January 26, 2005
EuroUpdate: Bonked on the head...
The latest from overseas...
1.
Radek Bonk
– A few have noticed that Radek Bonk hasn't played a game for Trinec in some time. There was no official announcement of his absence on the official Trinec website. Was he injured? Did he bail on his team?
Thus, I went to 'Sebesta' for some unofficial information and came up with this:
Radek Bonk is healthy - he is in America because
his woman is pregnant and will have baby in a short time
Well, whatever he names his baby, it will still have the last name of
BONK
and be subject to years of playground taunting.
2. Modry feeling blue – According to 'Sebesta', Liberec's
Jaroslav Modry
sustained some nerve/muscle damage in one of his hands and will be out at least 6 weeks. At this point of the season, 6 weeks could mean the ENTIRE rest of the season and playoffs.
3.
Ronald Petrovicky
– The dude who played himself out of Zilina landed with Swedish team
Brynas
(Sweden, what a surprise). Petrovicky had a decent debut with an assist in a 4-2 victory over
Mora IK
(The stacked team with Gaborik, Hossa(s), Nagy, and Pavlikovsky.
4.
Jan Caloun
– I wonder if any
Sharks
fans remember this guy?
Back in 94-96, Caloun was brilliant in his brief NHL stints with the Sharks as he piled up 8 goals and 3 assists in 13 games for them. When Caloun was stuffed back in the AHL, I had always held that Caloun was absolute screwed by the Sharks and that the Sharks made a big mistake.
Feeling held back by the Sharks, Caloun went to Finland and became a big star there. Jan would get his second NHL chance with the Minnesota Wild in 2000-01, only to blow it with bad defensive play and a lack of production (just 3 assists in 11 games). I could see why the Sharks thought Caloun wouldn't fit right in the NHL. For all of his talent, Caloun was just too 'European' to succeed in the NHL (See Vladimir Vujtek and Martin Prochazka for more details).
Why do I bring up Caloun? Only because he absolutely blasted Jihlava last night in an 8-5 win – Caloun had 5 goals and 2 assists in this one game!! Lucky
Jiri Slegr
had the fortune of playing on his unit and finished with a +7 rating in the game.
Caloun now has 16 goals and 7 assists in 14 games for Litvinov in his triumphant return to Czechia after years of starring in Finland. Just compare these totals to another Sharks farmhand who has struggled to make the NHL:
Miroslav Zalesak
. So far, Miroslav has just 6 goals and 2 assists in 20 games for Litvinov (2 of those goals came in his debut game). I hope Miro doesn't become another Jan Caloun.
5.
Dominik Hasek
– The Flakey One is at it again...check out the
Hockey Rodent
for a translated interview with The Dominator. Dom seems to think that the NHLPA is very united...
We are as solidified as never before. We have been informed well about this situation and we were prepared for it. We are in daily touch (phones, Internet etc.). We get info and our people get opinions from us players. It's the arrogance of the League which got us so unified.
Maybe if Dom would stop counting his mountains of money and designing overpriced golf clothing, he would realize that many of his fellow guild members aren't quite so happy with their union. As much as Dom can retire to a life of luxury in Pardubice, the
Juraj Kolnik's
of the world simply can't afford to miss much more NHL hockey.
Now, the stats from yesterday's games...
SLOVAKIA: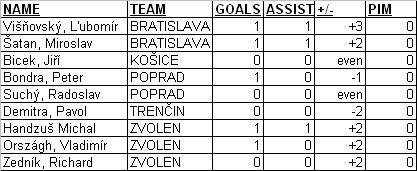 CZECHIA: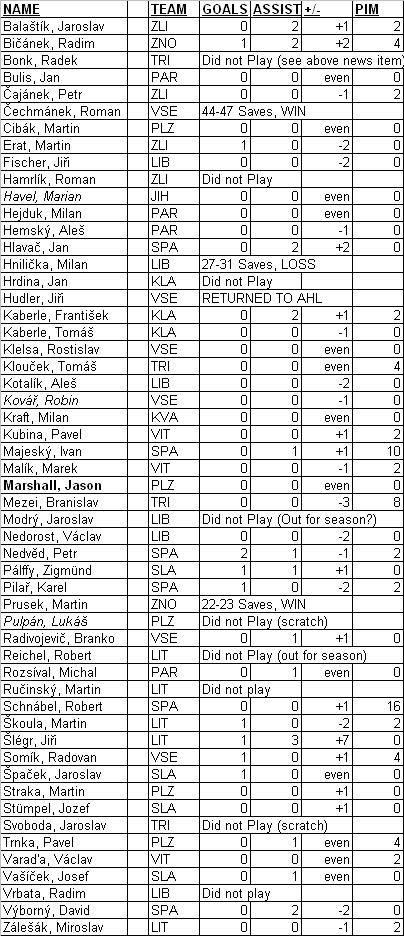 Comments:
Jan Caloun havent played for Wild, he tried do make an NHL spot in Columbus BlueJackets. It was a huge mistake of him, after a great season in finland he underestimated off season practice and went to NHL in absolutely bad shape. But it is better for him to be he, he is one of my favouritest players. If I would be a coach and will be asked to have ONE player of the world in my team, he would be my pick. Look at his senior career stats: 744-436-431-866. Natural born scorer, he scored 28 goals for Litvinov in his rookie season, when he was 18. And btw, he is also one of the less known golden medalists from Nagano.
Misha
Thanks for correcting me. I rush these entries at times and I need to take it a...bit...slower
and you would pick Caloun over Forsberg, Jagr, Naslund, Pronger, Niedermayer, St. Louis? :) You must like the guy an awful lot.
It's too bad that he could only have a star career over in Finland. On the other hand, I think he probably enjoyed being a star in Finland rather than just an 'average' face in North America.
Nagano: I don't remember him on that team...I remember Dopita, Beranek, Moravec, Prochazka, Patera, Jagr, Ruzicka, Rucinsky, Reichel, Lang, Straka, Hejduk...I guess Caloun didn't play much
he played round robin games, in playoffs has been replaced by Milan Hejduk. And yes, I would pick him over Niedermayer or St.Loius. No one of them could entertain me even playing fr opposite team :)
Post a Comment
<< Home