Monday, January 31, 2005
EuroUpdate: Approaching Doomsday
January 31st
represents the transfer deadline for most IIHF European leagues, and teams were extremely active in beefing up their rosters for the stretch run.
NHL? What NHL?

January 31st seemed to be the logical 'drop date' for the CBA Negotiations, so the European teams and many of the players treated it as such. Despite the fact that there is a slight chance that the NHL could have a 'season', many of the richer teams are loading up with NHLers anyway. There is lots of news to report on.
After the storm...
1.
Radek Bonk
- After leaving
Trinec
for North America and the birth of his baby (Oliver Jaroslav), Bonk is returning to Czechia. This time, however, he's going to play with Martin Erat and the big boys in
Zlin
(Rather than crappy Trinec). Good choice!
Oliver Bonk?
...
2.
Martin Havlat
- Where else would you expect a punk like Havlat to end up but with
$parta Prague
?? GAH! I hope he tears an ACL or something >:(
3.
Martin Cibak
- Leaves PLZEN and return to Slovakia to join
Jiri Bicek
in Kosice. Cibak, apparently, had fought with his head coach of Plzen (his name escapes me) and had been a healthy scratch a few weeks ago (Unheard of for an NHLer in Czechia). Let's just say that both sides are happy to be rid of each other.
4.
Rostislav Klesla
- Scored 2 goals in his 'farewell' game for Vsetin yesterday. He's off to play in Finland with
HPK.
Vsetin has managed to 'sell off' every good veteran except
Roamin' Roman Cechmanek.

5.
Marian Hossa
and
Marian Gaborik
have both left their Swedish teams before the Jan 31st deadline as was 'agreed'. It was expected that both would return to
Trencin
, but that isn't guaranteed. Gaborik has a broken finger and will miss at least 2 weeks of action.
Maybe the Marian's finally realized what a horrible, horrible, horrible place Sweden really is. Finland is a much better place to spend your tourist dollars ;)
6.
Trencin,
meanwhile, was busy on other fronts as they acquired
Branislav Mezei
from Trinec. Mezei spurned his hometown club of Nitra to play with
Pavol Demitra
(good move!)
7. Non-Slavs -
Marcus Ragnarsson
(an icky Swede) has decided on club Swedish Almtuna IS.
Marty Reasoner
has decided on the Red Bulls of Salzburg.
Tuna and Red Bull - sounds like something I'd have for lunch.
8.
Jiri Slegr
- My pal Daniel passes along some details from yesterday's Litvinov/Karlovy Vary match, which got very rough near the end.
"Slegr wanted to fight. He attack Tomas Harant. I was quite surprised that Harant defeated Slegr, improved his "face-lift" and got him on ice. Slegr with mouse on eye wasn't able to take part of interview with journalists while Harant explained the situation. :-D"
...and here is the photo evidence...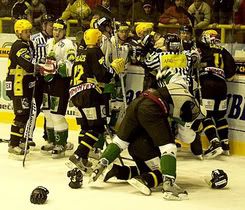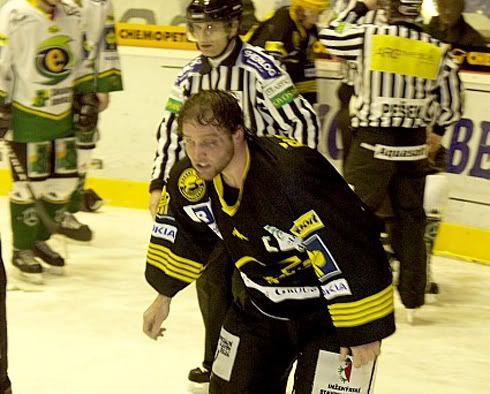 9.
ZLATA HELMA
- This week's best players of the week are up for voting and viewing
(right-click and 'Save As')
1.
Ales Hemsky
makes his 3rd appearance of the season for his stickhandling moves. This time, he goes through the Vitkovice defense, only to be stopped by
Marek Pinc
.
2.
Dagmar Cechmanek's Husband
stops ex-Kings team-mate
Zigmund Palffy
in close.
3.
Jiri Slegr
, before his got his ass handed to him, scores on a nice 'accident' pass from
Ivo Prorok
.
4.
Jaroslav Spacek
roofs a shot over Dagmar Cechmanek's Husband.
5.
Jaroslav Balastik
- The campaign continues!! Watch as Jaro sets up
Martin Jenacek
on this combination play. He's got NHL written all over him :)
6.
Jan Plodek
and
Patrick Rozsival
, two guys you've never heard of, combine for this cheeky little play.
To finish off, here are the stats from yesterday's game. Is this the final
EuroUpdate
I'll have to do? Probably not, but it would be a nice bonus to report on NHL stuff more.
SLOVAKIA: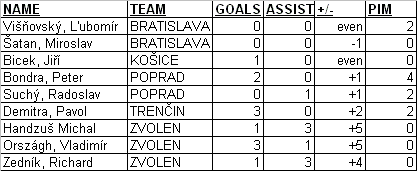 CZECHIA: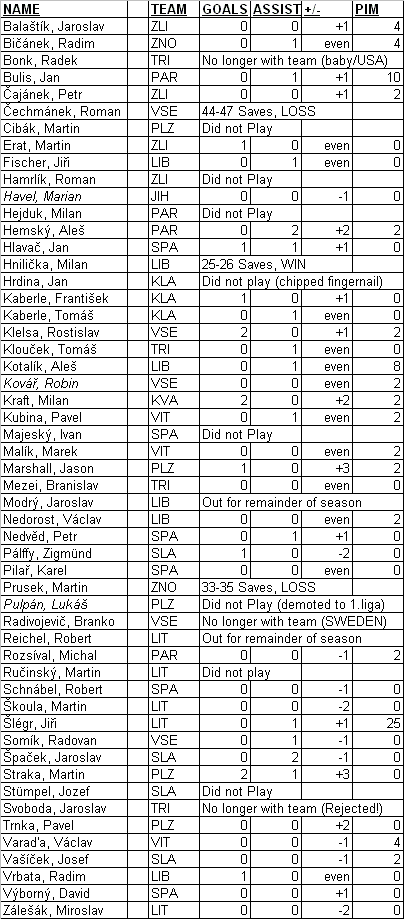 Comments:
d00d!
I'm not entirely sure...
Svoboda played 4 games and then none since. Trinec sold off most of their good players and brought in a bunch of crappy replacements (I'd prefer it if they played some juniors, but I guess they want the junior squad to have a playoff run). The stupid Trinec website doesn't mention anything about Svoboda's current status. I assumed he was booted off for poor play, but I can't sure for 100% sure.
Post a Comment
<< Home