Monday, January 03, 2005
Canada vs. Russia - Part 253
Canada faced its toughest competition to date at the 2005 World Junior Championships, and they passed the test with flying colours -
Canada beat Czechia 3-1
in the semi-finals, and will now play the communist Russians in the finals.
Although the score was close (3-1), the play was not. Canada outshot Czechia 42-11, and Czech goaltender
Marek Schwarz
was doing everything possible to keep the game in reach for his team and exciting to the mostly Canadian crowd. The lone Czech goal was scored by, of course,
Rostislav Olesz
.
Yesterday, I wrote:
"Kaspar and Petruzalek weren't really 'clicking' on any of their passes (the frustration was apparent on Kaspar's face as he went offside on 2-on-2) and Team Canada will have an easy time if they can shut down the Olesz line."

Canada didn't totally stop Olesz, but the
Kaspar/Petruzalek
combination was completely ineffective and didn't really show a lot of fire. They only registered 1 shot between the two of them, and the lack of secondary scoring finally caught up to the Czechs.
---
Cold-Cocking Russians

Meanwhile, the
Russians humiliated the USA 7-2
in front of the home fans. The humiliation wasn't just on the scoreboard, as some of the Russian players (namely the 1-2 punch of Malkin and Ovechkin) decided to rub their victory in the faces of the American players are fans.
As PJ at
Sharkspage
describes it:
Evgeni Malkin scores a second empty net goal, and mocks the crowd in North Dakota. First Shirokov does the Hulk Hogan "I cant hear you" move after his goal, then Ovechkin mocks the crowd, now Malkin. I am losing respect for this Russian squad by the second.
A few years back when
Ilya Kovalchuk
did a fist-pump after scoring an empty-netter against Canada in the same tournament, I chalked that up to youthful exhuberance. Kovalchuk was excited more than cocky.
In this instance, however, it is obvious that Malkin and Ovechkin have some growing up to do. You would figure that two players from the Russian SuperLeague would have some maturity.
I just wish
Viktor Tikhonov
was coaching this squad. You could be sure that Malkin/Ovechkin would have done a nice 4-hour bag skate to teach them a lesson.
In the end, this sets up another classic Russia/Canada final, which is just fine for Canadian fans. We want to avenge our 2 straight Silver finishes in 2002 and 2003, and I know Americans like PJ are cheering for our boys. Tuesday night - It should be a beauty!
One last note about the Russians - Check out the visor on Ovechkin! What is he,
Robocop
?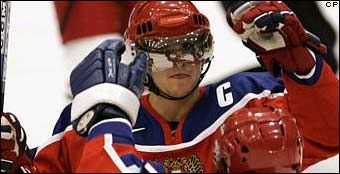 I've seen red visors (Rick Nash), yellow visors (Eric Weinrich), and black visors (Theo Fleury, Jiri Hudler), but the Robocop look is a new one. It's somewhat distracting and I believe they are banned in Sweden. I'd love to get a tourquoise/metallic blue visor if I were playing pro hockey. Still, I can just see some of the stodgy NHL executives banning coloured visors that don't allow you to clearly see the players' eyes.
---
Meanwhile,
Slovakia beat Belarus by a squeaky 2-1 score
in their relegation group game. The Slovaks needed a two-point effort from Minnesota Wild prospect
Peter Ölvecky
in the 3rd period to overcome the surprisingly tough Belarussians. Really, these relegation group games are hard to care about as long as the Slovaks aren't in any real danger of being relegated. It's hard for the players not to care about just padding their own statistics.
EXTRALEAGUE UPDATE MACHINE!
With the WJC going on, and Trinec way out of the playoff race, I haven't been following the Extraleagues quite as closely as I usually do.
Still, here are the stats from the last round of Czech Extraleague games.