Wednesday, December 29, 2004
The Great Canadian Roundup
It wasn't quite a double-digit massacre, but Canada had absolute no trouble steamrolling over Germany by a
9-0 score at the World Under-20 Junior Championships.
The Germans tried to stop Canada with their version of 'anti-hockey' - a 1-4 or 0-5 counterattack/trap - but the Krauts didn't have any success. The frustrated Germans took 3 desperation and undisciplined penalties in the first period. Canada took advantage and used two straight PP goals to make it 4-0 after the 1st period (including a Bergeron-Crosby cross-crease play that made me scream out loud) and never looked back.
Crosby
now has 6 goals and 1 assist in 3 games while
Bergeron
leads the tournament with 8 points (3+5). I don't think my
Olesz
prediction is going to pan out, so it's good that I didn't put money on it.
I'm trying to think of something good to say about the German squad, but I can't really think of anything. The German junior squad was in the B-Pool last year, and perhaps they should have stayed there. For all of the decent prospects that come out of Germany, they are still miles behind the other countries when it comes to the quantity of skilled prospect. Perhaps if the German Elite league didn't allow so many foreigners on their teams, then the hometown German players could develop in a stronger environment.
Somehow the Germans 'managed' 17 shots on backup
Rejean Beauchemin
. I think the scorekeeper was quite generous, since I swear I only saw the Germans get about 5-6 shots on goal.
My thoughts, exactly!
HockeyNation Blog had this to say about Team Canada thus far:
Not meaning to be cocky, which is a decidedly un-Canadian outlook on life, but this group of Sutter cowhands are making the game look oh so easy. Beside the magic of Crosby and Bergeron (and if you're the NHL you had best get busy making sure you have a place for Sidney to play next year!) this is a team that has bought into the much vaunted Sutter work ethic. Every period, every shift seems to provide a complete effort. Even the few mistakes that have been made have been quickly corrected; they already have meshed into a complete unit that can provide scoring from line number one down to the grinders' line. The back end has held up its own and the goaltending has been quite fine thank you very much. While the competition thus far hasn't been of an intense nature, you sense that this Junior team may be one of our better assembled units of recent history
Now, my own random thoughts...

1.
Dion Phaneuf
– He had his first three assists of the tournament in last night's game. I was quite impressed with his passing ability. Dion was making good breakout passes and playmaking passes. If he possesses this quality in most every game, then he's even better than I thought. I know one of
Chris Pronger's
most underrated qualities is the fact that he's an elite passer. The most important offensive skill a defenseman can have is great passing ability. To me, this is 10 times more important than having a big slapshot (just see
Shawn Heins
, for example)
2.
Chris Bourque
– I haven't yet had a chance to see him play, but all reviews I've heard and read have been positive thus far. Until he plays in the AHL/smaller rink environment, I'll still hold a sceptical eye.
Jiri Hudler
, he is not.
3.
Clarke MacArthur
– In every WJC, Canada always seems to be a lowly-regarded junior player that comes out of almost nowhere and has a great tournament. These are the guys that are drafted much lower than the Dion Phaneuf's of the world, or just wasn't anywhere on the radar prior to the tournament. Clarke was drafted in the 3rd round by Buffalo in the 2003 entry draft. Until this tournament, I had never heard of the guy. Only the most die-hard Sabres fan or Medicine Tigers fan would know who he is.
Mike Cammalleri
(2nd round by Los Angeles) and
Ian White
(6th round by the Leafs) pop into mind as players that used the WJC to burst onto the scene and increase their profile.
MacArthur made the score 3-0 with one of the most skilled deflections I have ever seen. Phaneuf's shot/pass wasn't even close to being on net, but MacArthur deflected the puck out of mid-air while he was skating fast towards the net. I could try that move 100 times and maybe make it once. Sabres fans must be quite pleased to see MacArthur showing so well at this tournament.
In Canada's group, Finland, Sweden, and Slovakia are all tied at 1-1. One of these teams won't make it to the playoff round...I hope it's
Sweden
!
---
Extraleague Update Machine:

Whoever produced the Slovak Extraliga schedule is obviously on crack. Games are scheduled on random days. Instead of the very strict round-by-round home/away schedule we are used to, the Powers That Be decided just to pick a few random games and schedule them intermittently over the past 2-3 weeks. I'll just focus on the Czech games until the Slovaks straighten themselves out.
Miro Satan
– The devil has finally got bored of the newlywed life and has agreed to play for evil
Slovan Bratislava
if evil Gary Bettman cancels the NHL season.
(Edit: Miro Satan is playing in today's game, and my initial report wasn't quite correct. Miro will play with Slovan until January 15th. He will then decide, after the BoG meeting, whether to continue with Slovan or not.)

Screw-Off, Sweden
– It seems the Swedes take might delight at pilfering talent from Slovakia, as they are unable to produce their own. Mora IK, especially, has openly expressed interest in bringing Lubomir Visnovsky to Sweden, and Miro Satan (too late, suckers!).
SIGN YOUR OWN DAMN PLAYERS!!! >:(
Here are the stats from the last round of Czech League games. Palffy has sure sucked a big one since he return from Skalica. He must have fallen prey to one of the Gypsy (Roma) curses that the crestfallen Skalican fans paid for.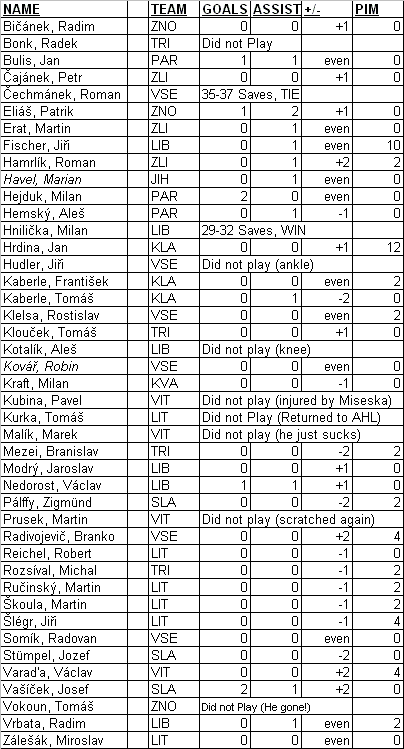 Comments:
Is there even any snow in Germany? Get real, did the Germans really think that they could beat us at this game. I mean really now! We, after all, have MINI-me-Gretzky and all his friends. Is Sid Crosby really that good? Check it at my blog as well. http://sidneycrosby.blogspot.com/
thanks
You created a blog just to rip on Sidney Crosby?
I know the hype is immense, but an anti-Crosby blog? When you have an anti-site, you've hit the big time.
I don't think Crosby is Gretzky-calibre, but he's certainly not Alexandre Daigle. Crosby is a whiz in the offensive zone and he has the type of offensive smarts and creativity that is rare amongst his peers. I think the comparisons to Peter Forsberg have some merit. Crosby is very strong on his skates and very dangerous down low.
It's the classic case of picking apart a player because you are looking for warts. Any time a prospect is watched from a young age (like Spezza or Lindros) scouts and the media start to look at the 'negatives' in the player, as compensation for the hype.
There is never a perfect player, so it's a bit unfair just to deride Crosby for the sake of just that. As long as Crosby commits himself to constant improvement, he's going to be a BIG BIG Star. In the games I've seen him play, he's always produced boatloads of offense. I haven't seen Crosby play a bad game yet, which is probably just luck involved. Still, it's obvious why he gets the hype.
Is there even any snow in Germany?
I believe the answer is "Ja, du blöde Schwanzkopf." Or were we not paying attention in Geography class that day?
Post a Comment
<< Home