Monday, December 06, 2004
Extraleague Update Machine: 12/06/04
As
Don Cherry
has said many times before, coaches are hired to be fired.
In Czechia and Slovakia, this holds true even more as the average turnaround for a coach seem to be twice or thrice that of the NHL.
Case in Point: Robert Spisak
. Poor dude was fired as head coach of Pavol Demitra's
Dukla Trencin
, a club currently in 3rd place! Expectations for Trencin are high, and right now they aren't playing very well. Slovak hockey fans don't seem too upset with the firing...As my pal Dano says,
"He should go back to coaching teams in Hungary."
To make his Christmas more cheery, here's a picture of the Christmas card that I'll be sending him.
(Edit: I did not design this card myself...I don't have any artistic talent. You can buy these cards from
http://www.sendhappy.com/cards/product_info.php?cPath=23_29&products_id=37
. Mail one to your favourite hockey executive.)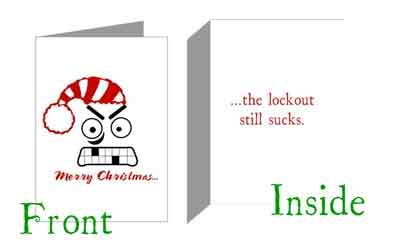 ---
How about some
Golden Helmet
highlights? This week's theme: NHLers you love to hate.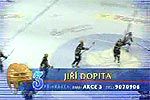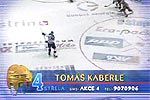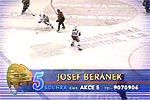 #3
- Check out
Jiri Dopita
as he makes a sweet lob pass to Martinec for a goal. I haven't seen a lob pass like that work in quite some time...and the mass of Litvinov players chasing after Martinec is priceless.
#4
-
Tomas Kaberle
, Don Cherry's favourite Maple Leaf, blasts a Power Play tally. It must be great for these defensemen to have so much more time to blast the puck. In Europe, the defensemen tend to develop long windups because they get so much more time to shoot than in North American rinks.
#5
- Much despised Ex-Canuck/Oiler/Penguin
Josef Beranek
sets up ex-King
Tomas Vlasak
in a combination play. As frustrating as these two were in the NHL, they are the complete opposite playing at home.
Of course, here are your latest stat updates... on a side note,
Miroslav Zalesak
hasn't done jack squat since his 2-goal debut for Litvinov. I know Robert Reichel is injured, but that's hardly a good excuse for him.
CZECHIA: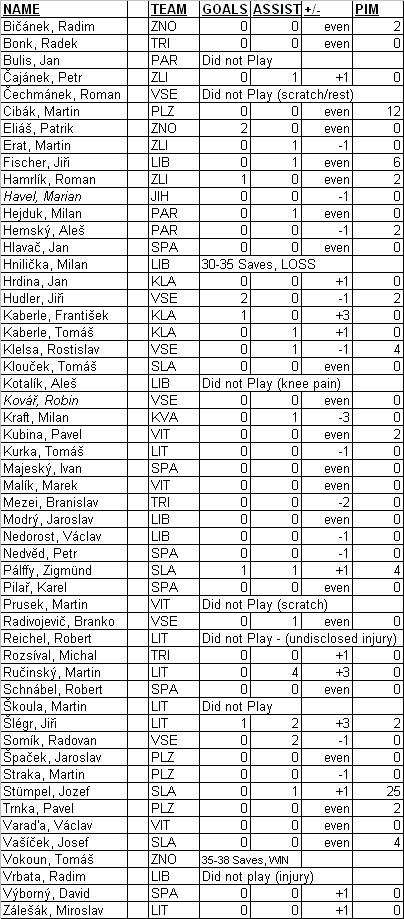 SLOVAKIA: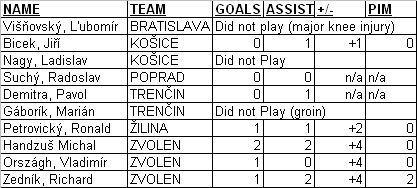 Comments:
Hi, thanks for posting a link to our card! We just added a shirt with similar sentiment. *All I want for christmas is hockey*
http://www.sendhappy.com/cards/product_info.php?cPath=30&products_id=38
Enjoying your blog!
The SendHappy.com blog -
http://www.sendhappy.com/cgi-bin/blosxom.cgi/index.html
Post a Comment
<< Home