Wednesday, December 08, 2004
Extraleague Update Machine: 12-08-04
Not a whole lot of incredibly breathtaking news today...just a few things here and there
1.
Zigmund Palffy
re-confirmed his commitment to playing for
HC Slavia Praha
in an interview. He won't be chasing after the oil $$ in Russia, unlike some people. (*cough*
Havlat
*cough*)
2.
Jiri Hudler
took the day off to rest and chill with his ailing father. In his place,
Radovan Somik
had a big night with 3 assists in Vsetin's win. Both
Somik
and
Radivojevic
have been named to the Slovak team for the upcoming
LOTO CUP
tournament.
3. My little dig at
Miroslav Zalesak
seems to have sparked him. Miro had 2 goals and an assist in a 7-0 Litvinov win over poor Trinec. I will take full credit!
It's only December 8th, and I've already given up on Trinec' playoff chances...now
Roman Malek
, who was apparently going to join Trinec, has decided that he'd rather play with crappy Karlovy Vary...I'm still awaiting some real confirmation.
4. A new name has been added to the Czech updates...
LUKAS PULPAN
! Pulpan is the 3rd ex-Vancouver Giant (We're glad to be a farm team for the Czech Extraliga) on the list and he got the call up from the 1st division to play for his hometown Plzen club. If ex-Giant
Jiri Jakes
can make it back up from the 2nd division (He played for Sparta last year), that would make it 4 for 4 for ex-Vancouver Giant Czechs playing in the Extraliga.
Note to Blue Jackets fans...please start
spreading the word
... we need to get
Jaroslav Balastik
over to the NHL. The
'Bring Over Balastik'
campaign is now in full force.
Now, for your stats from the last round of games...
CZECHIA:
SLOVAKIA: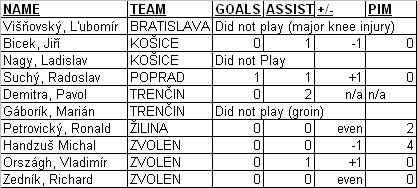 Comments:
Jiri Hudler joined his father in hospital (unfortunately Hudler senior is in Olomouc and Hudler junior in Zlin), because he had an ankle surgery and will be off till christmas.
I believe Jiri Jakes wouldnt ever play in czech extraliga again, I dont want this league to be dishonested again :)
Next to the Pulpan, 15 years old Lasselsberger defenceman David Stich also appeared in extraliga, second youngest player ever, first was Rostislav Olesz 4 years ago.
Misha
And now Patty Elias has run off to Magnitogorsk to join Petr Sykora...
Or, actually, if I'm translating correctly, that only had a little bit to do with it and it's really all about the money.
But hey, Patty and Marty share the same mind, right?
-jz.
Post a Comment
<< Home