Monday, December 13, 2004
Black Monday: Calm Before the Storm
So much doom and gloom on the horizon. Not even Mr. Rogers could make the days bright.
---
Will childish wonders never cease?

1.
Sportsnet.ca reports
that in what was supposed to be a fun exhibition game between the 'Worldstars' (locked out NHLPA players) and a rabble of Russian All-Stars, on-ice officials had to retrieve bananas and banana peels when
Anson Carter
was on the ice.
The incidents occurred on a day when the English-language St. Petersburg Times had a front page story about attacks on ethnic minorities in the city. Such racial taunts have plagued European soccer in recent months.
LAME!
St. Petersburg is generally known as one of the more beautiful Russian cities (Not that there are many) and more 'western' than it's brothers and sisters. Let's just hope nothing like this happens when the Worldstars visit
Plzen
.
2. In happier news, members of the Vancouver Giants and Vancouver Canucks joined with some other NHL veterans to produce a wildly successful charity game at the old Pacific Coliseum. This game will raise a few hundred thousand dollars for Canucks Place, a local hospice for dying kids.
I really wish I had been there:
"A sold out Coliseum felt like the good ole Canucks' days, as 16,878 people helped support the charity and came to witness hockey at its finest"
Todd Bertuzzi
, the baboon who can snap in an instant,
was given a loud ovation by the sheep in the audience.
The sold out crowd gave Bertuzzi a deafening, prolonged standing ovation when he skated onto the ice during the pre-game introduction. There were shouts of "I love you Todd."
Yeah, I love the way you screwed the Canucks playoff chances with your cowardly attack-from-behind.
After the game,
the players were asked about the recent NHLPA offer and the state of the league:
Trevor Linden: "The players are pretty much at the end so it will be interesting to see where he (Bettman) comes back at. With the strides the players have taken to get the game back on the ice it leads me to be hopeful."

Brad Lukowich: "We gave back more than they even asked. The only one thing we didn't give was a salary cap and that's the one thing we're not going to do. We found a way to save the money. It's odd it came down to the players to have to do that."

3.
Sportsnet.ca also reports that Senators owner Eugene Melnyk is not impressed
with the NHLPA's public relations exercise, also known as the 24% reduction on all salaries:
"It's not a solution," Melnyk told the Ottawa Sun. "It's a one-shot deal that doesn't work."

"The most important thing is to fix the system. What we don't want to do is end up back in the same situation three, four or five years from now. What happened to this team and in this community in the last three years is devastating. We can't let it happen again," said Melnyk.

"There is one solution and that's what is being proposed by commissioner Bettman. If we follow that track, we will have hockey that is here to stay."
I have/had a feeling that this would be response from the NHL all along. I wonder if Bettman will issue a fine to Melnyk for speaking out about the issue before the NHL gives its 'official' response to the issue.
---
Zlata Helma Time!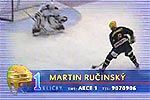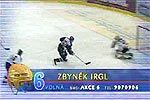 Only one NHLer on the roll this week as wanker
Martin Rucinsky
jukes and jives in the #1 spot.
Check out Predators prospect
Zbynek Irgl
, the Vitkovice Express is on a roll.
Be sure to head on over to the
Zlata Helma website
and give a vote for Zbynek. We can't have Rucinsky win the damn thing!
Of course, here are your stat updates from yesterday's round of games...
SLOVAKIA: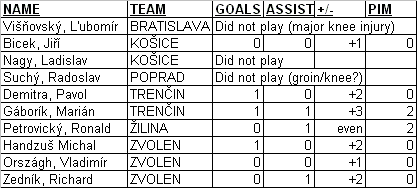 CZECHIA:
Comments:
Pavel Kubina is not at Worldstars tour, but he has bruised knee after an attack of Michal Mikeska of Pardubice in last week.
misha
I'll be surprised if you don't get a bunch of angry Canucks fans jumping on your ass for your crack on Bertuzzi (true though it may be).
Post a Comment
<< Home