Monday, November 15, 2004
The White Tigers: They're GRRRRRRRRRRREAT!
Today's Czech League focus deals with the 'junior' member of the Hockey Elite, the Liberec White Tigers (Bili Tygri). Named after the famous
White Tigers
found in their prestigious and world-famous Liberec Zoo, Liberec has been in the Extraliga for just 2 years and has been making waves this season thanks to a bevy of new signings. Together with 'Charlie' and Radek of
esports.cz
, here is a little history of the hockey club and a look at how the NHLers are affecting the fortunes of this ambitious club.
HISTORY:

After World War II.: There were three teams in Liberec
1956: Two organizations merged to form "Lokomotiva Liberec"
1961: Team name was changed to "Stadion Liberec"
60's to 90's: Team played in and bounced between the 1st and 2nd divisions.
1995: The team advanced to the First Division and never looked back.
2000: The organization identity changed to "White Tigers". The goal of the organization was to earn promotion to the Extraleague in the following seasons.
2002: Team advanced to the Extraleague, winning the 'barrage' series over Kladno.
2003: Team finished in 12th place.
2003: Team finished in 11th place. The aim for next season is to secure a playoff spot.
AMBITIOUS GOALS:

Milan Hnilicka
will be the main trump card and allurement for the fans this season in Liberec. The engagement of this Olympic champion helps Liberec address a major issue they had last season: Goaltending problems.
The White Tigers also reinforced the other positions, thanks to an 80-million crown increase in their budget, as to not repeat the disappointment of missing the playoffs.
Along with Hnilicka, the White tigers signed forwards (ex-Canuck)
Lubomir Vaic
from Magnitogorsk, Jan Tomajko from Sparta Praha, Igor Rataj from Znojmo, and Andrej Podkonicky from overseas. The defense was fortified with the additions of Miroslav Duben from Pardubice and Angel Krstev (who returns from a one-year term in Litvinov).
Thanks to the NHL lockout, Liberec was able to secure the service of NHLers
Jiri Fischer
(Detroit),
Radim Vrbata
(Carolina),
Vaclav Nedorost
(Florida), and
Ales Kotalik
(Buffalo). Jaroslav Modry (LA/Atlanta) has also agreed to join the club in the near future.
The 2004-05 will be the last one for Liberec in their old ice hall. Next season, the Tigers will play in a new, modern ice hall, which is currently under construction.
SO FAR, SO GOOD:

After a hot start, and before the onset of some recent injuries (and a flu bug which caused a game to be rescheduled), Liberec finds itself currently in 6TH place with 33 points. If they can halt their recent slide and hold off some hard charging teams, they just might reach their goal of a playoff entry. At the very least, they have no fear of being relegated back to First Division abyss. The fans have been very happy, as they have been averaging about 4,400 fans a game (90% of capacity).
Ales Kotalik
– 11GP 5-4-9 +3, 30PIM
Kotalik-Nedorost-Vrbata were all playing together on the same line until injuries dropped them like so many dominoes. Kotaltik was the real star of the line with a near point-a-game pace.
Radim Vrbata
– 19GP 5-7-12 +7, 12PIM
The current Hurricane has been recently playing on a line with team scoring leader Lubomir Vaic while his usual two linemates have been injured.
Milan Hnilicka
– 16GP, 9-7-0, 1SO, 2.80GAA, 91.28% and 25PIM
Hnilicka, who was basically stuck in the AHL almost permanently after stints with Atlanta and LA, has probably gone back to Czechia for good. Hnilicka hasn't been a godsend for Liberec this year, and he's currently 14th in the Extraliga in goaltending stats. Still, he's better than the crud they had in the past.
Vaclav Nedorost
– 17GP 4-3-7 +6, 10PIM
Rather than go back to his home club of Ceske Budejovice (Which is now in the 1st division), Nedorost decided to play with Liberec and has performed decently. Nedorost suffered an injury which kept him from playing for Czechia in the recent Karjala Cup.
Jiri Fischer
&
Jaroslav Modry
– Unfortunately for Liberec, neither one of these defensemen has played a game for them yet. Jiri Fischer is still recovering from an arm injury while Modry decided to stay with the family and take care of business with them, first.
Liberec just had a recent press conference where Modry tried on the Liberec uniform and said he'll be ready to go shortly.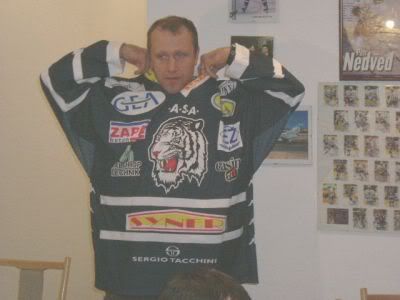 The 'PROSPECT'
Ladislav Smid
, the first round pick of the Anaheim Mighty Ducks in the 2004 draft is the pride of the Liberec system. He's currently got 1 assist this year and plays on a unit with their #1 defenseman, Valdemar Jirus. Jirus takes care of the offence while the young Smid has been expected to play a more defensive game. Smid may not be putting up much in the way of offence, but he's been given a lot of playing time in crucial defensive situations.