Saturday, November 20, 2004
Weekend Update: SCORE one for the NHLPA
1. When the media was allowed an inside look at the
NHLPA's SCORE
system I made a rather flippant comment regarding potential consequences.

What is to stop the NHLPA from tracking the anonymous agent who logged into their system to look up NICK SCHULTZ? Methinks one unlucky agent is about to be de-certified.

Now, we learn that
Bryant McBride
has been decertified
by the NHLPA Guild as they traced the access back to his office. It's not all over for him, though...
Sources say while the NHLPA has proof that the leak came from McBride's office, those who know McBride say it wasn't him and he will be working to clear his own name and attempt to regain his certification.
Perhaps a disgruntled employee? If only the NHLPA spent more time negotiating rather than guild tactics...
2.
Pavel Brendlwatch
- 'Timpe79' a Finnish hockey fan from the town of Joensuu reports about Pavel Brendl's first game with his new club:
Brendl scored his first goal in his first game and showed a keen 'Game-Eye'. His passing was good and the fans are happy to have him (at least for now).
On the downside, his skating is atrocious and Timpe79 suspects that is one of the major reasons Brendl can't make 'the leap' in the NHL.
Perhaps losing 20 pounds might lighten the load?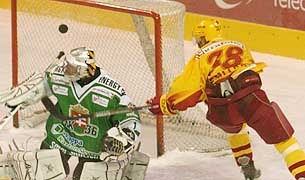 Demo goes 'roof' against Skalica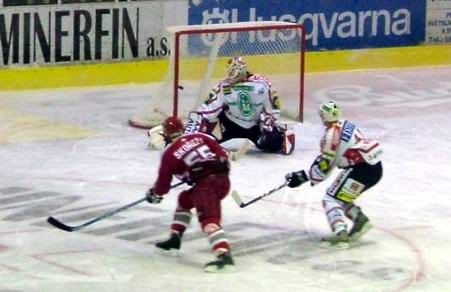 Zdenek Skorepa of Trinec rips it by Jan Lasak.
Now, onto the stats...
CZECHIA: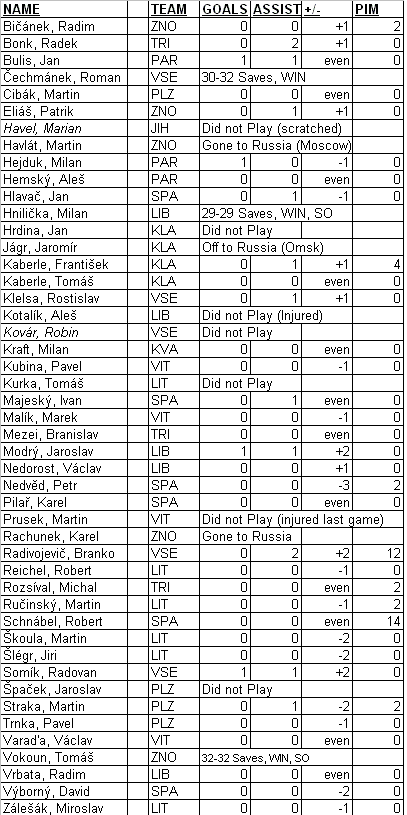 SLOVAKIA:

Comments:
Poor Jan Lasak. Is he still a soft taco in a hard taco world?... or wait... if it's the Euro leagues is it a Chalupa or Gordita world out there then?
(If you don't know, the "taco" comparison is to the point that the Predators organization made about their former prospect Lasak and why he is no longer there.)
What is this 'taco' reference you are talking about? I never heard the Preds call him a Taco...just a 'nut' :)
Post a Comment
<< Home