Wednesday, November 03, 2004
Sergei Zholtok: Dead at 31
Some sad news to report tonight, courtesy of
this tsn.ca report.
Veteran NHL player Sergei Zholtok died in Latvia on Wednesday. He was 31.
He was playing hockey in his home city of Riga, the Latvian capital, when he became ill near the end of a game. European news reports say he suffered from cardiac arrhythmia.
Sergejs Zoltoks
, as he is known among Slavs, had some heart problems in the past.
I'm not just talking about the dizziness last year, but earlier in his career, when he floated around like a cloud.
I was always impressed that he worked hard to improve his game and became a lot grittier later in life...much like Robert Lang.
At least he died doing what he loved, although far earlier than he should have.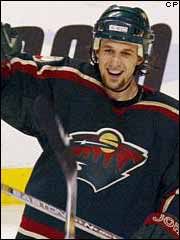 Zholtok in happier times.