Sunday, November 07, 2004
Pre-Break Roundup
The Czech and Slovak Leagues (and most other European leagues) are now on a hiatus for a couple of weeks while the countries compete in various tournaments. (Although the Slovak League is playing today, the Czechs are not)
The Czechs will begin the Karjala Cup (in Finland) against the Finns, Russians, and Swedes.
The Karjala Cup is Part I of a four-part tour in which little tournaments are held in each of the 4 countries. The team with the best overall record after the 4 tournaments wins bragging rights and a free dinner at Red Lobster.
The
Slovaks
, on the other hand, get left out of the Big Boys club and will have to play in the German Cup with Germany, Switzerland, and Canada's E-Squad.
The Slovak Squad is quite NHL-free, which is kind of depressing given the fact that the Slovaks had so much trouble last year with their European-based players.
Goalies:
Rastislav Staňa (Södertälje/Švéd.)
"Krazy" Karol Križan (Hkm Zvolen)
Imrich Petrík (HC Košice)
Defense:
Martin Štrbák
(HC Košice), Tomáš Starosta (DuklaTrenčín),
Dominik Graňák, Boris Žabka (obaja Slavia Praha/ČR),
Jaroslav Obšut (Lulea/Švéd.),
Branislav Mezei
(Třinec/ČR),
Peter Smrek (Wolfsburg/Nem.), Tomáš Harant (Karlovy Vary/ČR)
Forwards:
Ivan Čiernik (Wolfsburg/Nem.), Martin Bartek (Lukko Rauma/Fín.), Rastislav Pavlikovský,
Marcel Hossa
(obaja Mora/Švéd.), Richard Kapuš, Martin Kuľha, Martin Hujsa (všetci Slovan Bratislava),
Miroslav Zálešák
(HK Skalica), Peter Fabuš (Dukla Trenčín), Roman Kukumberg (Nižnekamsk/Rus.),
Ľuboš Bartečko
(Dinamo Moskva/Rus.),
Martin Cibák
(Plzeň/ČR), Ľubomír Vaic (Liberec/ČR), Juraj Faith (ŠKP Poprad)
Other news heading into the break:
1.
Dany Heatley
is the latest casualty in Europe, and it's
another serious injury:
Heatley, playing for SC Bern, was hit in the eye by a shot from teammate Daniel Briere during a game Saturday night with Geneva-Servette.

Heatley was taken immediately to hospital, where he was diagnosed with a severe swelling and inner bleeding. He had no sight from the injured eye when admitted. Doctors drained the eye to relieve pressure in it.

It's just one thing after another with Heatley.
2.
"Meet the New Boss, Same as the Old Boss!"
- Now that
Karel Rachunek
is off to Russia, the
Znojmo Eagles
finally got around to hiring to hiring a competant head coach:
Miloslav Horava
. Why is this strange? Well, he was the coach of Znojmo just 2 years ago... I guess if they want another retread, they might as well go with a familiar one.
3.
Jaromir Jagr
has been whining for some time about his craving for Vodka and Russian Hockey. He finally put his mouth where his (large piles of) money is and he's now off to play with
Avangard Omsk
. It's a really big blow for Kladno, as Jagr is leading the Czech Extraliga with 28 points (11+17) in just 17 games played.
---
GOLDEN HELMET TIME!
I know you are just craving some hockey action, so here are the Zlata Helma clips from this week's "Buly" (Hockey Night in Czechia) TV show.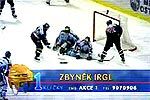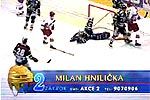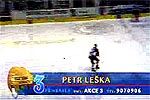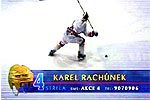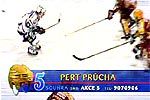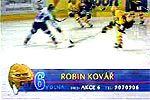 1
. Zbynek Irgl
- Nashville's very much forgotten prospect (6th round pick in 2000), Irgl dances around Vsetin's defense for a slick goal. Irgl was also named to the Czech Team for the Karjala Cup. Nobody knows about this guy outside of Czechia, but he is a good player and I hope he'll get a shot with the Preds in the future.
2.
Milan Hnilicka
absolutely robs a very very very frustrated
Pavel Janku
of Trinec. Of course, Hnilicka throws his stick on the play and there is no penalty shot called! I can see why the Czech NHLers are so frustrated with the Extraliga refs.
3.
Petr Leska
, the Extraliga scoring champ a few years back, sets up
Jaroslav Balastik
(6th round, 2002 by Columbus) with an absolute LOOOOOOOOOOOOOOONG bomb of a pass against Trinec. Didn't I tell you that Trinec had a weak defense? :) :(
Balastik currently leads the Extraliga with 14 goals...none easier than that one.
4.
Karel Rachunek
leaves the Znojmo fans with a good memory before he bolts to Russia. Here he blasts one past a befuddled Kamil Jarina of Litvinov.
5.
Petr Prucha
- Those who like this guy like him a LOT (Like Hockey Rodent). The Rangers drafted him the 8th round of the 2002 draft...if Prucha wasn't such a shrimp, he definitely would have been a first rounder with his skills and speed. You may remember him as Jagr's linemate at the 2004 World Championships...and he'll be on the Karjala Cup team as well. In this clip, he sets up defenseman Mudroch in a combination play.
6. Former Vancouver Giant
Robin Kovar
(and Oiler's illegal draft pick) is the middle-man in this combination play as he sets up Tomas Vak. It's amazing how well Kovar has done in the Extraliga given how poorly he did in the WHL.
Comments:
hi there,
i am despretly looking for an igor murin jersey. any idea of how i can get one? thanks.
ken
k366@msn.com
Post a Comment
<< Home