Tuesday, November 02, 2004
Parting is Such Sweet Sorrow
News tidbits and other floating matter that needs to escape from my head...
1.
NO MORA HOSSA IN SLOVAKIA?
This transfer hasn't been confirmed in stone, but
apparently Marian Hossa wants to leave Trencin
and join his brother, Marcel, with the Swedish team Mora IK.
I'll be sure to keep my eye on this story.
(Thanks to Joolsie for the link)

2.
RACOONS INVADE RUSSIA
Apparently tired of losing, listening to Martin Havlat brag about something or another, and having his brother, Ivan, constantly ask him for money,
Karel Rachunek
has decided to leave the Znojmo Eagles and sign with Yaroslavl of the Russian Vodka League. Poor Znojmo...now their defense consists of
Radim Bicanek
and 5 headless chickens.
We might be seeing more and more of these types of transfers as it appears more and more likely that we may not have an NHL season at all.
Jaromir Jagr
has already publicly declared his future could lie in the Russian league.
Other players may switch teams and look for more 'secure' deals, rather than the homedown discounts that they are currently playing for. (Jagr and his one Czech Crown contract, for example).
3.
GONCHAR GONCHED!
PJ from
Sharkspage.com
and Eric from
OffWing Opinion
both posted
this link to a video clip
of Gonchar getting rocked by Ovechkin (See Saturday's blog entry). A hit always looks 3.8 times more devastating when the helmet comes flying off.
I also agree with Eric that it's sad that a player like Gonchar has had his career endangered. In today's Defense-first NHL, the offensive, rushing defenseman is almost going the way of the dinosaur.
David Tanabe
was supposed to be the 'next one', but he hasn't panned out, yet. If
Dick Tarnstrom
and
Marek Zidlicky
can succeed in today's NHL, then it gives me hope that there will always be room for an offensive-minded DMan. Of course, these guys have to produce a lot of points to be given the opportunities that they have been.
4. It's not often that you get anything good from
FoxSports
, but
this little article
about the Slovak Extraliga was suprising good for a non-Slav North America. If you want a very basic rundown of the Slovak League, check it out.
5. If you ever in Vsetin (why the hell would you be in Vsetin? I don't know) and get lost on the way to the hockey rink, just look for a big sign like this and
Roman Cechmanek
will point the way.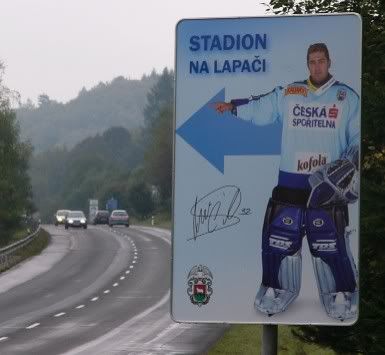 Imagine driving down the road at 3AM in the morning and seeing this scary picture. It's enough to give you nightmares.
(Thanks to Marek M. for the picture)