Wednesday, November 03, 2004
Extraleague Update Machine: 4 More Years of Darkness
Just a basic update today, as I was up late watching the US Election results coming in.
1.
Karel Rachunek
IS confirmed to be transferring to Russia, but he still played last night for Znojmo.
Marian Hossa
played last night for Trencin, and his move to Mora IK is definitely not confirmed.
2.
Michal Handzus
made his looooooooooooooooooooong-awaited debut for Zvolen. He didn't burn the house down, though.
Richard Zednik
piled up a whopping mound of penalty minutes, but he was just whining about a slashing penalty he took (30 minutes of misconduct penalties, woo!).
3. I guess I was on to something about the NHLers getting a little antsy. There were another couple of fights in
this derby
between Litvinov and Znojmo.
Light Middleweights
Martin Rucinsky
and
Patrik Elias
went at it in the 2nd period in a rather girly slapfest. The real action started after the 3rd period was completed, and
Radim Bicanek
got involved in a 4-player brawl after the final whistle had blown.
Damn, we're missing some good stuff!
CZECHIA:

SLOVAKIA: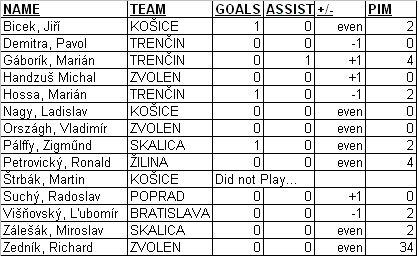 Comments:
http://www.tsn.ca/nhl/news_story.asp?id=103566
Sergei Zholtok died. Absolutely bizarre circumstances.
I saw your comment after I posted the story. the first thing I saw when I booted up my Internet Explorer was the Zholtok story.
It's just a black day in the world today.
I believe Rachunek will play for Znojmo tomorrow as well, then settle into his new digs in Russia during the national break.
The Litvinov/Znojmo scrum is still getting news. It would really be nice if I woke up tomorrow with fluency in Czech. Ok, only vaguely useful, but still nice.
-joolzie.
Post a Comment
<< Home