Monday, November 29, 2004
Do these highlights make me look fat?
It's time for some more Zlata Helma (Golden Helmet) goodies to make you crave some real NHL hockey that much more
---
(Right-click and 'Save As' for best viewing)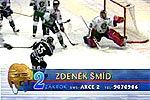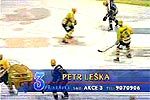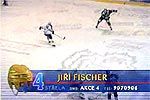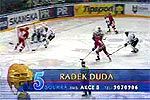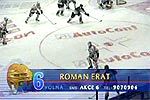 1. Oilers forward
Ales Hemsky
is at it again with some shake-and-bake for his Pardubice club. With moves like this, he ought to become a dancer for Britney Spears' next tour.
2. Zdenek Smid commits some grand larceny with the glove as he robs Libor Prochazka of $parta Praha.
3. Nashville/Zlin forward
Martin Erat
scores on a lovely feed from Playmaker Smurf,
Petr Leska.

4. Wings stalwart
Jiri Fischer
blasts a goal in his debut game with Liberec. This bomb turned out to be the game winner.
5. Dude!
Radek Duda
totally makes UBC alumni
Robert Filc
look like a beached whale with this gnarly combination play.
6. Martin Erat's brother
Roman
makes a deft deflection on a
Patrik Elias
feed for Znojmo.
Now for the stats update from yesterday's games...
CZECHIA:

SLOVAKIA: