Wednesday, November 17, 2004
Back to the Action
After the quiet 2-week 'national' break for the European Leagues, they returned to action yesterday and the landscape was quite different thanks to numerous signings and transfers.
The Latest...
1.

The
Pavel Brendl
European Tour continues and his next stop is with the Finnish second-tier (Mestis League) team
Joensuu Jokipojat
. Let's see if he can last longer than 2 weeks with his 4th (5th if you count Krefeld) club of the season.
2.
Miroslav Zalesak
, in a quiet and surprising move, decided to leave HK36 Skalica of the Slovak League and wound up with Chemopetrol Litvinov of the Czech League. This should allow Zalesak a higher level of play and it won't hurt that he's on a line with
Robert Reichel
. Zalesak had a bombastic debut with 2 goals in a 4-1 win.
3. Meanwhile, the Slovak League is looking quite barren thanks to the departures of
Palffy
(returned to Slavia),
Zalesak
,
Strbak
(to Russia) and
Hossa
(to Sweden).
4. Debutantes –
Jaro Modry
made his expected debut with Liberec,
Ivan Majesky
made his debut for Sparta Praha, and
Frantisek Kaberle
joined his brother in Kladno for their first game together.
5. The Yankee – There were 0 Americans and 0 Canadians (Because I'm not counting Petr Nedved as a Canadian) in the Czech Extraliga before the break. For cultural, monetary, and other reasons, there has rarely been a non-Slavic 'Cizenec' in the Czech League. That all changed with American
Connor Dunlop
joined Litvinov in his debut yesterday. Looking at Dunlop's
past stats
, he was a solid college player who was never drafted in the NHL, and then played just 10 unproductive games in the ECHL last year. I'll have to read up on this if I can find anything. At the very least, Dunlop had an assist on one of Miro Zalesak's goals.
6. Fight Card –
Rostislav Klesla
vs. ex-Sharks farmhand
Robert Jindrich
. This has got to be a record fighting year for the Czech Extraliga.
Now, for the stats…
CZECHIA: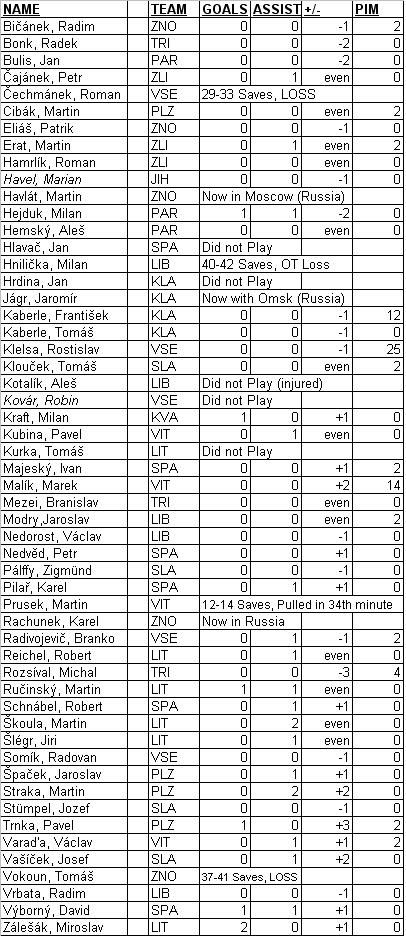 SLOVAKIA:

Since the detailed boxscores aren't on the main site, here are the basis:
Pavol Demitra
and
Marian Gaborik
were held pointless in a surprising 4-1 loss to Liptovsky Mikulas.
Radoslav Suchy
did not play in a 2-2 tie between Poprad and Skalica. As mentioned before, Palffy and Zalesak are now both in Czechia.
Visnovsky
,
Nagy
, and
Bicek
were held pointless in a 1-0 Slovan Bratislava beating of Kosice.
In a 4-2 Zloven victory over Zilina,
Vladimir Orszagh
had 2 goals (including the game winner), while
Zednik
and
Handzus
each had 2 assists (on both Orszagh goals, of course).
Comments:
i heard some rumours that palo demitra will leave dukla trencin to sparta praha. eh, for me really bed news, from best club in slovakia to evil sparta ...
mik
Post a Comment
<< Home