Wednesday, October 27, 2004
Extraleague Update Machine: 10-27-04
I'm still shaken over the retirement of
Franta Kucera
, but somehow I'll find the strength to carry on...
Today's News:
1. Milan Kraft is leaving Plzen and will join Karlovy Vary (aka Karlsbad). Karlovy Vary is one of two Czech Extraliga clubs without an NHLer.
With Kraft moving to KV, Jihlava is the only club now without any current NHLers
(or former NHLers, either).
2. Ladislav Nagy is expected to return from injury in this Friday's match against Zilina. Nagy has missed quite a few games with a bothersome knee/groin problem.
3. Martin Strbak – I reported earlier that Strbak would be leaving Kosice for Dynamo Moscow. This is still true, but it's now set in stone that he won't be leaving for Vodkaville until November 13th.
4. You can count Pavel Kubina amongst the piles of injured bodies lying around the Czech Republic. He will miss a minimum of 3 games (a week) with an arm/shoulder injury. Lightning fans can thank Pardubice's Tomas Rolinek for this injury.

There were no Slovak Extraliga games yesterday, so here are the Czech League
stats...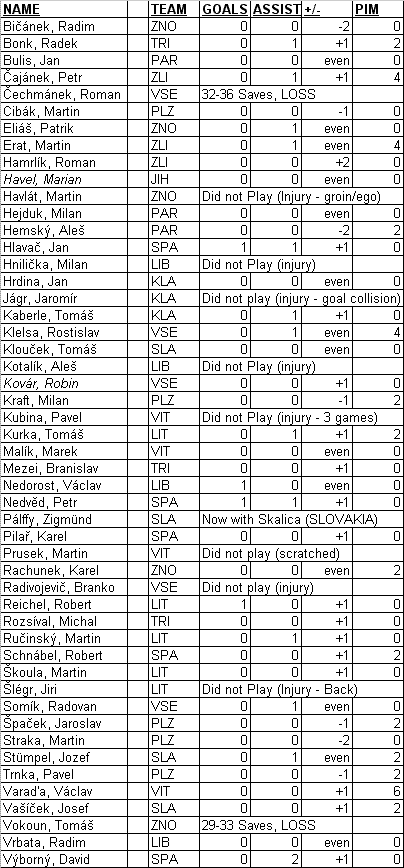 Comments:
Buzek...oh, right. So, they have one former NHLers
and a former NHL all-star
probably one of the strangest All-Star selections ever.
:)
This is a dissapointing journal entry because it looks like a few players are already getting disinterested in the lack of a chalenge the Extraleagues are. Kraft can tear it up at home.. but... when he's up against the best in the NHL he unfortunately gets to the middle of the pack.
It's always been a criticism of Kraft. Many fans in Pittsburgh want to get rid of him for all the unfufilled potential.
Thanks for the European Updates. I really like them.
Post a Comment
<< Home