Saturday, October 23, 2004
Extraleague Update Machine: 10-23-04 -> HCO Trinec
TEAM FOCUS:HC TRINEC
(PS: The stats are at the bottom of today's post)
You've often seen me talking about my favourite Czech team, HCO Trinec (Trinec Steelers), so here's a little background on them.
(BTW, they just pasted Znojmo 5-0 thanks to a 50-save performance by Vlasta Lakosil. Take that, Havlat!)
In the days of Czechoslovakia, the little mining town of Trinec, which is close to both the Polish and Slovak borders, (hence the sponsorship and Steelers nickname) had a constant presence in the 1st division, and wasn't much of a factor in the hockey world. Things changed after the breakup of the two countries, and Trinec earned Extraliga promotion for the 1995/96 season.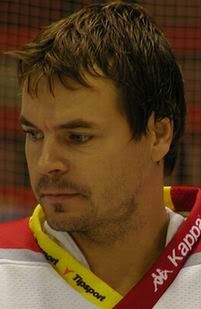 The presence of a rich sponsor like Trinec Zelezarny (Steelworks) allowed Trinec to sign stars from other organizations and develop a good team rather quickly. One of those players,
Richard Král
(a personal favourite), is one of the few players currenly playing that has over 250 goals in the Extraliga in a career. This sponsorship also allowed Trinec to lure prospects and teenagers away from poorer organizations and smaller towns without an Extraliga team. The most famous of these would be
Martin Havlát
,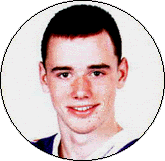 who was lured away from Brno (a very big city without an Extraliga team),
Vaclav Pletka
(who had a 1 game stint with the Flyers and was never given much of an opportunity to make the Flyers)
Petr Svoboda II
(who had a short stint with the Maple Leafs), and
Jan Marek
(Rangers 9th rounder who now plays for friggin Sparta Praha).
Now, I get a lot of flak from my Czecho/Slovak pals for liking a team in a ruddy mining town like Trinec, but I guess I was initially attracted to the team due to the large presence of Slovak players. Being close to the border has made it easy for Trinec to attract good Slovakian talent (even into the junior program), the most famous being ex-Wild defenseman
Lubomir Sekeráš
. Besides, I usually cheer for the underdogs and the underappeciated. It takes real dedication to stay with this team :)
Why? Well, if you were an NHL coach running this team, you would have a heart attack in short order. Just think of the mid 90's Pittsburgh Penguins: A high-octane offensive team with a weak defense, weak goaltender, and a total disdain for defense. Trinec has been involved in more 5-4 shootouts than any other team in the Extraliga accordingy to my unscientific analysis.
One more note:
Vlasta Lakosil
- When you get to a certain age (Now I'm 25), there are players that enter pro hockey at the same time you turn into an adult, and you tend to follow their careers as you grow older. Lakosil would be a such a player for me, seeing as he was born just 3 weeks after I was, and began playing pro hockey for Trinec when he in his teens.
Lakosil was once a fine prospect, although he never was drafted by an NHL club. Lakosil, for all of his athletisicm. is an extremely 'Wild' goalie who relies on his reflexes and guesswork. He's been Trinec #1 goalie for most of his adult life, but he's never seemingly gotten better since he turned 18. I call him 'Lak-o-skil' for a reason. This year, however, he's prevented Trinec from residing in last place. Maybe he's finally put it together?
Today:
Heading into the season, Trinec needed to improve its goaltending and defense as usual. Unfortunately, phenom
Marek Schwarz
was lured away to the WHL after agreeing to a contract just months before. So, another year of Lakosil...
At least NHLers Radek Bonk, Michal Rozsival, and Branislav Mezei (along with Ducks farmhand Peter Podhradský) came in to improve the defense up front and on the back end. Funny how Trinec suddenly stopped scoring and found themselves in last place to begin the season. As of right now, they've strung together consecutive wins and are residing in 11th place, 2 points out of a playoff spot.
Radek Bonk, C (Montreal)
- The much maligned Bonk joined Trinec and has played well at both ends of the ice. He's on a scoring line with Jan Peterek (returning from Russia) and currently has 4 goals and 4 assists with a +3 rating and 22PIM in 13 games.
Michal Rozsíval, D (Pittsburgh)
- The poor guy missed the entire season last year with a bevy of injuries to his right knee. Given Pittsburgh's poor state, maybe it wasn't such a bad thing that he wasn't subject to finishing -35 or something. Right now, Rozsíval has certainly fit the Trinec bill with good offense and craptacular defensive play. Michal has 1 goal and 7 assists with a -3 rating and 10PIM in 15 games. At the very least, Michal has quickly become the leader of a Trinec defensive unit that lost their leader from last year (Petr Jancarik).
Branislav Mezei, D (Florida)
- Ever since Mad Mike Milbury made Mezei the 10th overall pick in the 1999 Entry Draft, Mezei's career has been on the long-road to Mediocreville. He's struggled to earn a regular spot in the NHL, and he's been dissapponting thus far for Trinec. Mezei has 1 goal and 0 assists with an even+/- rating and 28PIM in 12 games.
Pavel Brendl, W (Carolina)
- Oh yes, how can we forget the fat pig who came into the season out of shape and fell out of favour with coach Pavel Marek in the 2nd game of the season! Maybe Brendl can learn a lesson from
Róbert Döme
(Yes, I mentioned this before).
4 years ago, Döme came to Trinec in a much heralded signing. Like Brendl, he came into the season out of shape and lasted just 5 games with Trinec before they booted him out the door. Döme finished that season with Kladno, and then, after life-altering events, Döme changed his lifestyle and work habits 180 degrees. Döme might not be in the NHL today, but he's worked hard on and off the ice to become a better player.
Of course, both of Döme's parents died, and that's a rather extreme circumstance to go through for anyone so young.
To finish off: I will keep the faith and will not jump on the Pardubice or Plzen bandwagon's like some would like me to ;)
NHLers who have been with HCO Trinec (not including the lockout babies):

Lubomir Sekeras (Wild, Stars)
Lubomir Visnovsky (Kings)
Milos Holan (Ducks)
Martin Havlát (Senators)
Petr Svoboda II (Maple Leafs)
Róbert Döme (Penguins, Flames)
Vaclav Pletka (Flyers)
Miloslav Guren (Canadiens)
STATS from yesterday's action (and one game from Slovakia this morning):
CZECHIA: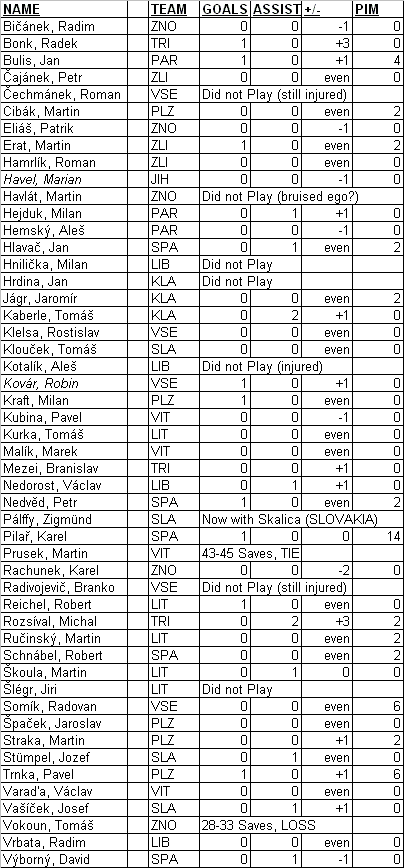 SLOVAKIA: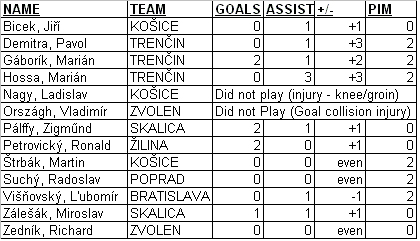 Comments:
Hey, Jes, any info on why Jiri Slegr did not play Friday? I haven't been able to find anything on any of the Czech sites I frequent. I'd appreciate any insight you may have. Thanks!
Post a Comment
<< Home