Wednesday, October 20, 2004
Extraleague Update Machine 10-20-04 - HC Vsetin
I'm a bit behind on things, so be sure to check out the
Hockey Rodent
, who has some nice tidbits on the Czech League, including the possibility of
Vincent Lecavalier
playing for evil Sparta Prague.
He also mentions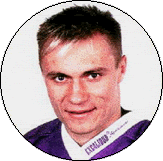 the master of disaster, (ex-Trinec and a whole other whack of teams) Roman Kadera. Think
Bobby Holik
without the steroids and about 4-5 inches of height.
---
It does look more and more like
Jaroslav Modry
will be joining the Liberec White Tigers once he gets healthy. They have been slipping of late, and he should help them out tremendously. I wonder if he'll be a good influence for young Ducks prospect
Ladislav Smid
.
---
Today's Team Focus: HC Vsetin (Vsetinska Hokejova)
In its hayday, Vsetin was a dynasty of its own in the late 90s. Roman Cechmanek, Pavel Patera, and Jiri Dopita were the cornerstones of a powerful squad that steamrolled the competition and pulled off consecutive championships.
Then, the owner got caught up in legal troubles, they lost their main sponsor (an Oil company) and the team nearly went bankrupt. In order to maintain a franchise, they had to sell off their stars (or watch them go to the NHL), which included phenom prospect Jiri Hudler. Although they are stable financially, they are pretty weak compared to the other Extraleague teams.
Today, things aren't too happy in Vsetin after a pretty good start, as they are now tied for last place with 10 points.
Their top scorer, Tomas Vak, isn't even in the top 40 overall scorers with just 7 points in 14 games.
Although they have a decent roster and 4 NHLers on the roster, this team has been in a major freefall and it may not stop any day soon.
1. Roman Cechmanek
is injured and is his usual grumpy self. He didn't like the team captain, Slovak Roman Stantien, so he had Stantien exiled to the Slovak League. Cechmanek was 2-6-0 in the 8 games he played, and Vsetin has had to suffer with the inept goaltender of youngsters and 1st division quality keepers since Cecho has been out. Cechmanek hasn't been the same goalie in the last 1.2 seasons after he's suffered so many injuries.
2. Branko Radivojevic
suffered a knee injury and will miss a month or so in total. He had 2-3-5 in 9 Games.
3. Radovan Somik
joined Vsetin just as Branko was injured. He has 3 points in 5 games, but is not a high scoring player that will boost the anemic offence.
4. Rostislav Klesla
has been thrust into the #1 defenseman role and has faltered in some regard. Klesla has struggled to establish himself in the NHL as a positive-impact player, and he has 2-4-6 and -8 in 14 games. Klesla may turn into a Brad Stuart-type defenseman, and not the 'Franchise' type that was expected of him.
In future updates, I'll do a focus on one team each day and give a bit of background on their current struggles/successes and how the NHLers are affecting that team. If you are following your favourite players over there, it's good to know a bit more about the league they are in. If you have a request, just email it in.
Now, the stats...
CZECHIA: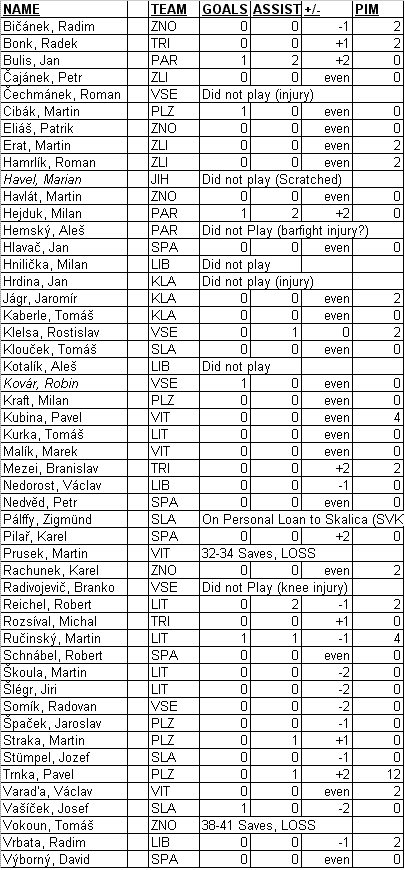 SLOVAKIA: