Saturday, October 16, 2004
Extraleague Update Machine: 10-16-04
While the NHL and NHLPA are involved in very intense non-negotiations, the beat goes on in the homeland.
1.
From my pal Robert Neuhauser's
Extraleague News and Notes
, he makes mention of the
Pavel Brendl/Trinec
situation:
Perhaps the saddest story written so far by returning NHLers was the tale of Pavel Brendl and the Ocelari Trinec team.

Trinec envisioned the Carolina Hurricanes forward as a potential scoring boost to their lineup, however, the problematic Nove Mesto nad Metuji native was invisible to begin the season, and was unceremoniously run out of town after being benched midway through the second game against Kladno.

Looking awkward and out of shape on the ice, Brendl struggled to keep up with the pace. His disastrous debut in Trinec can, in all likelihood, be traced to a lack of summer workouts and sub-par attitude, criticisms that have dogged him since junior.

After failing to swing a deal with German DEL team Krefeld, Brendl now plans to return to Olomouc (Cze 2), the same club he played for prior to departing for the WHL.
I guess the German team officials got scared when they took Brendl to an all-you-can-eat buffet and he viciously attacked the Bratwurst tray :)
Yep...more and more, Brendl is looking like the Czech version of
Robert Dome
.
To Dome's credit, he turned his career around (only after both of his parents died), and Brendl has no excuse for coming into the season in such lousy shape. When you play hockey for a living, it's pretty much a given that you need to be in top physical shape.
On top of all of this, Brendl's Olomouc team got routed 9-0 in his first game with the team. Brendl finished with 0 pts and -2...Maybe he would feel more comfortable in the 2nd division.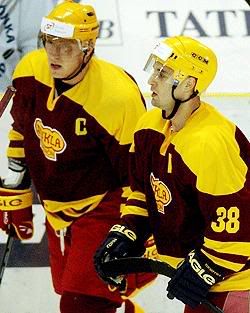 2.
In Trencin, Demitra and the gang played in RETRO uniforms (harkening back to the ARMY days, when the good players were drafted to DUKLA), which remind me of Boston Bruins old digs for some reason. All the big stars could eek out was a 2-2 tie against poor Poprad. It wasn't due to Trencin's laziness, but rather the fact they keep running into white-hot goaltenders. This time, Stanislav Kozuch, another garden-variety Slovak leaguer, made 37 of 39 saves and will tell his grandkids about this game some day.
3.
As mentioned previously, Palffy is now on his way to Skalica to complete his promise to play a handful of games for his home club. Given the fact that Skalica is barely out of the basement, maybe Palffy can get the club back into playoff contention. I wonder what kind of pair Palffy-Zalesak will be.
CZECH LEAGUE STATS: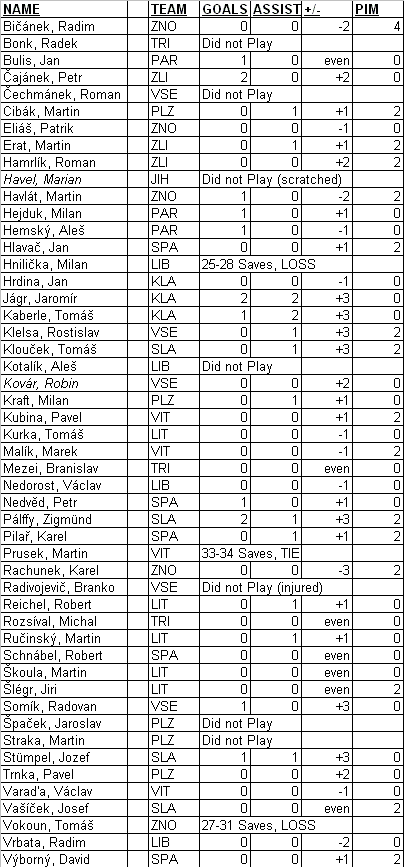 SLOVAK LEAGUE STATS:
Richard Zednik (Zvolen) - 0pts, -1
Vladimir Orszagh (Zvolen) - Did not play
Ronald Petrovicky (Zilina) - 1 assist, even
Lubomir Visnovsky (Slovan) - 0 pts, -2
Marian Gaborik (Trencin) - 1 assist, +1, 5SOG
Marian Hossa (Trencin) - 1 goal, 1 assist, even, 8SOG
Pavol Demitra (Trencin) - 0pts, even
Radoslav Suchy (Poprad) - 0pts, even