Monday, October 11, 2004
Extraleague Update Machine: 10-11-04
FIVE ALIVE!!!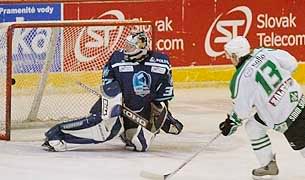 Here's a photo of
Miroslav Zalesak
scoring on a penalty shot. Why is this important? Well, it gave his Skalica team their *first* win of the season and they brought themselves out of the basement of the standings. Zalesak was on fire yesterday with 5 goals in a 7-1 pasting of Nitra. The last 5-goal game in the Extraliga that I can remember was
Marian Gaborik's
5-goal effort when he was 18 (and whe the hold-out Miro Satan was setting him up).
Not a lot of news since the last update other than
Martin Cibak
and
Radovan Somik
made their debuts for Plzen and Vsetin respectively (and both in losing causes).
Lubomir Visnovsky
also returned from injury and scored in his first game back...
Onto the stats
CZECHIA: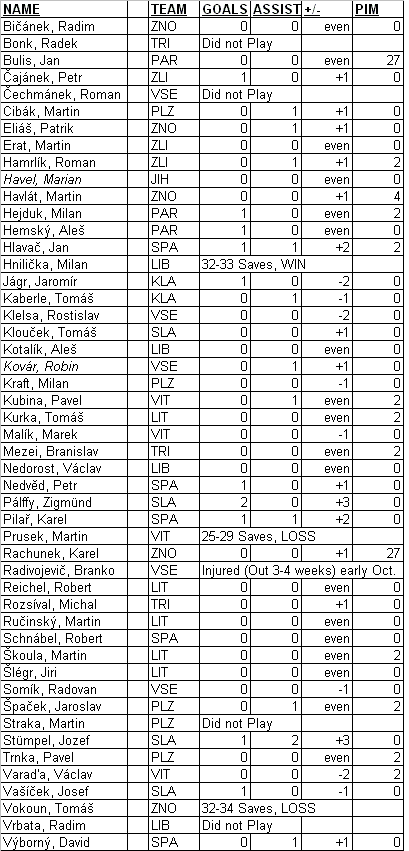 SLOVAKIA:
Mirolav Zalesak (Skalica) - 5 goals(!), +6, 6 shots on goal (sharpshootin')
Richard Zednik (Zvolen) - 0pts, -2
Vladimor Orszagh (Zvolen) - Did not play
Lubomir Visnovsky (Bratislava) - 1 goal, +2
Marian Gaborik (Trencin) - 0pts, even
Marian Hossa (Trencin) - 0 pts, +1
Pavol Demitra (Trencin) - 0pts, +1, 2PIM
Ronald Petrovicky (Zilina) - 0pts, -1
Martin Strbak (Kosice) - 0pts, -1
Jiri Bicek (Kosice) - 0pts, -1, 2PIM
Ladislav Nagy (Kosice) - Did not play (knee)
Radoslav Suchy (Poprad) - 1 assist, +2
Comments:
Thanks for all the updates on the Czech and Slovak Extraleague games while the NHL is still locked out. You know I have a large interest in all things Slovak... so.. please keep things up to date!
Zalesak may turn some heads in San Jose soon!
Post a Comment
<< Home