Friday, October 08, 2004
Extraleague Update Machine: 10-08-04
Lots of news and stats from Freaky Friday in the homeland...
First, the news:
1.
Martin Cibak
wanted a higher level of competition, so he's leaving Liptovsky Mikulas (although he played for them today) of the Slovak Extraleague and will join
Martin Straka, Milan Kraft, and Jaro Spacek
with Plzen of the Czech Extraleague.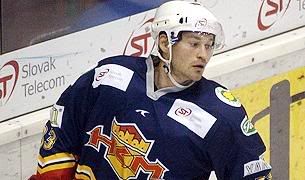 2.
Richard Zednik
made his debut with pal Vladimir Orszagh (pictured) for HKm Zvolen today. 'Zed' finished with an assist in a big win over evil Bratislava.
Zvolen is also in talks with
Michal Handzus
(who rejected evil Slovan, yay!) and
Ivan Majesky.
3.
Jozef Stumpel
wanted to play for his hometown club of Nitra, but Slavia coach/GM Vladimir 'Rosy' Ruzicka wouldn't let him. Obviously, Ruzicka doesn't want to lose both
Palffy
and
Stumpel
at the same time. (Thanks to Daniel for this info)
4. Also as per Daniel
, Miroslav Satan
will announce Tuesday if he'll be prepared to play for evil Bratislava (it would be fitting) or not. If Satan went back to Trencin, that would almost be too unfair to the rest of the the league, wouldn't it?
5.
Juraj Kolnik
was considering playing with his brother in Nitra, but will stay in the AHL with San Antonio to be closer to his wife and son. (poor Nitra! rejected twice.)
6.
Branko Radivojevic
will be out 3-4 weeks now with an injury. Fortunately for Vsetin, they just signed his Flyers teammate
Radovan Somik
to play for them.
Now, onto the stats...
CZECHIA: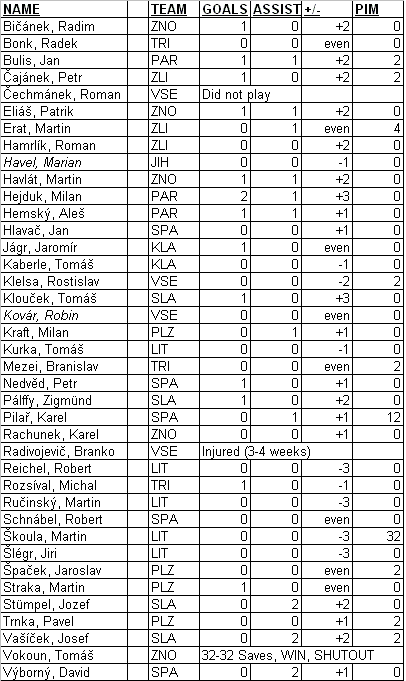 SLOVAKIA:
Martin Strbak (Kosice) 0 pts, -1
Ladislav Nagy (Kosice) 0pts, even
Jiri Bicek (Kosice) 1 assist, even, 7 shots on goal!
Martin Cibak (Liptovsky Mikulas) 0 pts, -2, 2PIM
Marian Gaborik (Trencin) 1 assist, +1, 7 shots on goal
Marian Hossa (Trencin) 2 goals, +3
Pavol Demitra (Trencin) 3 assists, +3, 2PIM
Radoslav Suchy (Poprad) 0pts, -1
Richard Zednik (Zvolen) 1 assist
Vladimir Orszagh (Zvolen) 0pts