Sunday, October 03, 2004
Extraleague Update Machine: 10-03-04
Lots and lots of news and goodies for you today...
CZECHIA:
1. In yesterday's
Hockey Night in Czechia
game, Sparta Prague beat Plzen 5-3 in front of 5,143 rather pissed off fans. Stats not included in the last updates
Sparta:
Jan Hlavac 1 goal, 2 assists, even, 2PIM
Karel Pilar 0 pts, even, 0PIM
Robert Schabel 0 pts, even, 2PIM
Plzen:
Milan Kraft 1 assist, even, 0PIM
Martin Straka 0 pts, -1, 10PIM
Pavel Trnka 1 assist, even, 0PIM
Jaro Spacek 1 assist, evem 0PIM
2.
Pavel Kubina
made his season debut for Vítkovice today in a 0-0 tie with Trinec. Yep, Trinec is now back at the bottom of the standings... :(
3.
Patrik Eliáš
and
Martin Havlát
made their debuts for Znojmo in a loss to Zlin. Elias managed to get himself a game misconduct in the 3rd period whining about his pal Havlat's penalty. WAAAAAAAAAAAAAAAHHH HAHAHA
Stats from today's games...
SLOVAKIA:
1. In Slovakia's own
Hockey Night in Slovakia
game yesterday, the powerful Dukla Trencin squad was derailed at home 4-1 by Zvolen. Most of Slovakia was shocked, even if you weren't.
Gaborik 1G, -1
Demitra 1A, even, 2PIM
Hossa 0PTS, -1
2.
Radoslav Suchý
made his debut today for Poprad in a 0-0 tie. Poprad is a poor team, so it's nice to see Suchý is helping them out.
3. From today's action...
Martin Cibák (L. Mikulas) 0pts, -2
Vladimir Országh (Zvolen) 1G, 1A, +1, 2PIM
Miroslav Zalesak (Skalica) 3A, -1
Marián Gáborík (Trencin) 2 G, 3A +4 (8-1 win over Dubnica)
Marián Hossa (Trencin) 2G, +3, 2PIM
Pavol Demitra (Trencin), 3A, +3
Radoslav Suchý (Poprad) 0PTS, even, 2PIM
Jiri Bicek (Kosice) 1 A, +2
Ladislav Nagy (Kosice) 2A, +2
Martin Strbak (Kosice) 1G, +2, 4PIM
Ronald Petrovicky (Zilina) 0PTS, -1
--
Anxious to see some game action? Well, there is the next best thing..
VIDEO CLIPS!
The top 6 plays/actions from the past week are up for voting on the
Zlata Helma site
.
Here are the NHLers making nice plays this past week.
1.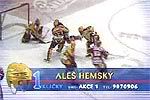 Ales Hemsky cuts through the Jihlava defense like a hot knife through butter (STICKHANDLING).
3.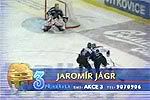 Jaromir Jagr with a show of strength as he throws a one-handed pass to Tomas Kaberle for the easy goal (PASSING PLAY).
5.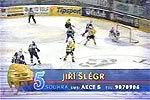 Jiri Slegr sets up Viktor Hubl as part of a 4-way combination play.
TIC-TAC-TOE-GOAL! (COMBINATION PLAY)