Friday, October 01, 2004
Extraleague Update Machine: 10-01-04
I just got back from the Giants/Thunderbirds game, which Seattle won 3-0. It was one of the worst efforts I've ever seen from the Giants...disgusting. I'll have a game and scouting reports later this weekend.
On with the update machine!
CESKO
1. It's not confirmed that
Pavel Brendl
and his hot-dog eating butt has been kicked out of Trinec. Club bigwig Petr Husicka confirmed that Brendl whined like a little baby during the 2nd game of the season (against Kladno) when he was benched...and Trinec already has enough unproductive lazy forwards (Yes, they lost again today 3-1). Brendl will probably land in the Belgian 2nd division in 3 years with his (lack of) work ethic
2. Pardubice got rid of coach Frantisek Vyborny (The guy with the worst hair in Europe) and replaced him with Vladimir Martinec (He's been around the block a few times). Pardubice responded with a win...although Hejduk still doesn't have a point!! Even Marian Havel is outscoring him!
The stats...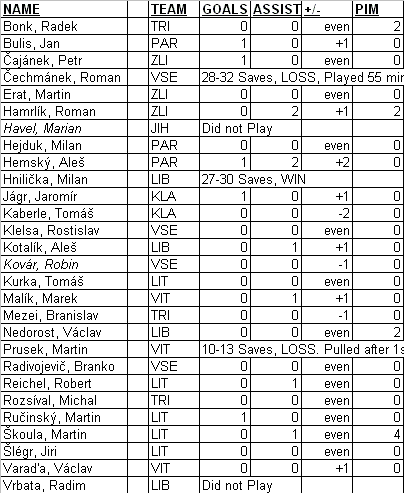 SLOVENSKO
1.
Vladimir Orszagh
had enough of the 1st division and has agreed to play with HKm Zvolen!
2.
Lubomir Visnovsky
will be out at least 2 weeks due to the injury he suffered in Slovan's last match. A big loss to Slovan, who could lose more ground to the rolling Trencin powerhouse and Nagy's Kosice team.
Stats:
Ronald Petrovicky (Zilina) - 0 pts, -1, 2PIM
Martin Strbak (Kosice) - 1 assist, even
Ladislav Nagy (Kosice) - 0 pts, even 2PIM
Jiri Bicek (Kosice) - 1 goal, even
Miroslav Zalesak (HK36 Skalica) - 0 pts, even
Trencin and Zvolen meet in the high powered matchup on Saturday.