Tuesday, September 28, 2004
Giants vs. Winterhawks - Reports and Observations
This past Saturday, the Vancouver Giants (WHL) treated a record crowd of about 8,900 to an offence-filled
6-4 victory
over the Portland Winterhawks. It was my first chance to see Marek Schwarz and Andrej Meszaros live in person, and the atmosphere was almost as good as the inaugural game a few years back.
With the NHL lockout in effect, the Giants are a hot ticket of sorts right now. Season tickets have nearly doubled to just under 5,000, and the Giants were able to open up a portion of the upper bowl again in the Pacific Coliseum.
The only thing missing from the game was Portland's
Robin BigSnake
, the former Giants goon with a cool name. The Winterhawks scratched BigSnake, depriving the fans of seeing one of the more popular players in Giants history. I cannot recall ever seeing BigSnake lose a fight in any of the games I?ve attended or watched on TV.
Also, the Winterhawks scratched BOTH imports; Dornic and Bucek. There aren't great prospects, but I would have liked to see them.
Here are some scouting reports and impressions from the game...
Marek Schwarz, G - Vancouver

Not a terribly good debut for the Blues?' #17th overall pick as he let in 2 soft goals in the 1st period and 4 overall. Schwarz was very wild and "reflexive", and wanted to do the splits at every opportunity (Perhaps he is big on Yoga or Van Damme movies). What I noticed the most is that Schwarz was ultra aggressive in coming out of his crease to make even the most routine of saves...well, no save looked routine the way Schwarz was playing in net. His aggressive style left him out of position on all 4 goals, and he really needs to learn to pick his spots better. He seemed very nervous or just too excited.
In the 2nd period, Schwarz made an absolutely beautiful save on a 2-on-1 situation. Schwarz did the Van-Damme splits to rob the Hawks...possibly the best looking save ever by a Giants goalie. It?s these kinds of stops and acrobatic ability that has pushed Schwarz into the spotlight throughout his young career.
I am hoping Giants? goalie coach
Bill Ranford
can teach Schwarz some fundamentals and get him to just calm down. Someone slip some Ritalin into Marek's water bottle.
Overall, my friend and I got the impression that Schwarz played goaltender like a flopping fish out of water.
Andrej Meszaros, D - Vancouver
A great debut for Meszaros (The Sens 1st Rounder), even though he went pointless (he finished +2). Meszaros was paired with new Giants captain (and Dallas 1st rounder)
Marc Fistric
for most even-strength and Power-Play shifts. Meszaros also played with Fistric on some Penalty-Killing shifts, but only about half the time.
What I liked most about Meszaros was the fact that he was shooting...a lot! He had about 10 shot attempts from my unofficial count and probably about 5-6 shots on goal for the game. His shot is hard, quick, and well placed for redirections. Many European defenders prefer to pass and setup the Power Play, but not Meszaros. Like Richard Lintner, Meszaros will let a shot fly any time he sees a good opportunity.
Defensively, Meszaros seemed just a little hesitant when he was going into the corner to retrieve a puck with an incoming attacker bearing down on him. He will probably get better at this aspect once he gets used to the physical style of WHL hockey. Meszaros' skating was just as good as advertised, and he carries the puck without much loss of speed.
Shawn Vey, RW - Vancouver

Advertised as a 6'3" 200 Center coming into the season, Vey (a former high bantam pick of the Giants) was listed in the Giants' guide as 190 and he looks a bit slim in the upper body. With Courchaine and Brule on the roster, Vey was shifted to the right side on a line with Courchaine and Triston Grant. Vey is considered a dark-horse 1st rounder in the 2005 draft (if there is one).
The lack of bulk showed when he was battling against Portland?s Michael Funk (a big 6'4" defenseman) in the corners. Vey's ice time was cut down in the 2nd and 3rd somewhat, but he played on the 2nd Power Play unit and was paired with Courchaine quite often.
Vey drives well to the net, and should work well with Courchaine and rack up a lot of points this season. I'll be keeping a closer eye on him in future games.
Jason Reese, C/W - Vancouver
Reese, the native of California, was Vancouver's 1st round bantam pick in 2003, and has made the Giants as a 16 year-old. I was surprised to see him stick on the roster, as I figured the Giants would want him getting more ice time on a bantam squad.
Reese finished -2 and generally played on the 4th line most of the night. He did see some PK duty in the 2nd period, and a couple of Power Play shifts with Brule off for fighting, but generally played about 3-4 shifts a period at most.
Reese shows good skating ability, but he really stuck out for his pestering style of play. Almost every shift, Reese was hitting and/or yapping the opposition. At the very least, Reese was doing his best to get involved in the game. It's good to see this kind of competitiveness from a top prospect. Reese will have to bide his time until next season most likely, as the Giants are quite set on the Top 2 lines.
Gilbert Brule, C - Vancouver
If you don't know Brule by now, then wake up and smell the
Starbucks
venti non-fat latte!
With most everyone's attention focused on
Sidney Crosby
, people quickly forget about the #2 rated prospect, Gilbert Brule.
A simply way to describe Brule:
Jeremy Roenick
without the bad/cocky attitude, hot wife (or ex-wife?) and gambling problems.
The 5'11" pivot is everything you could want in a hockey player, other than the fact he isn't 6'4", which means a lot to some Neanderthal GM's in the league.
Skating Speed:
Excellent
Skating Quickness:
Excellent
Skating Balance:
Excellent
Shooting:
Excellent
Stickhandling:
Excellent
Passing/Playmaking:
Good
Competitiveness:
Excellent
Physical Acumen:
Good
Defence:
A touch below average, but noticeably improving.
Brule played on a line with the industrious
Mitch Bartley
and Californian dude
Tim Kraus
(We know where the Giants scouts like to spend their winter days). Brule picked up the Gordie Howe Hat-trick with 2 goals, 2 assists, and a 3rd period fight against Brandon Dubinsky (Which Brule lost). Both of his goals were Brett Hull-like (a wrister and wicked one-timer) and, like Meszaros, he isn?t afraid to shoot the puck when he gets the chance.
Brule might be somewhat short for a hockey player, but he goes into the corners without fear and comes away with the puck many times. He loves to dish out hits and he doesn't fear anyone on the ice.
Trust me, folks, you'll be hearing a lot about Gilbert Brule this season...especially from me.
A couple of pictures...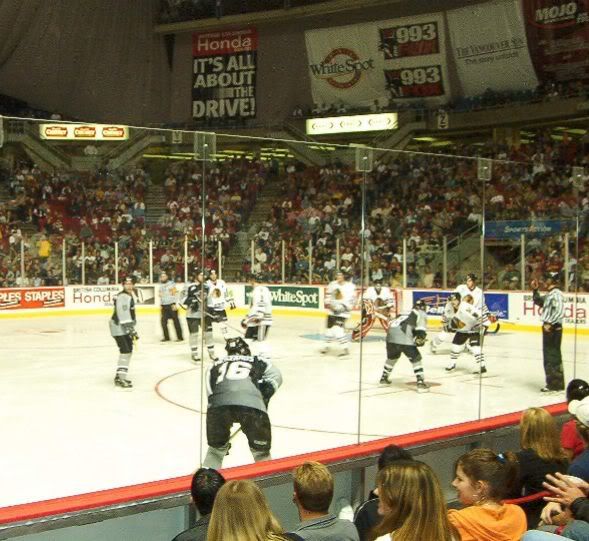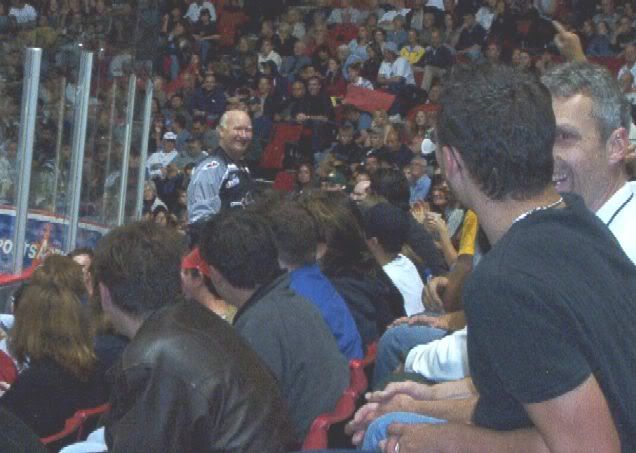 YES! The return of Crazy George!

Comments:
I am actually planning on a trip up to Portland to catch the Winter Hawks. Great photos. That seamless glass looks better than the glass they have at the San Jose Arena.
Post a Comment
<< Home