Wednesday, September 29, 2004
Extraleague Update Machine: 09-29-04
Absolutely no worthy 'lockout' news to report. The players are obviously going to drag this out for awhile, as their next planned proposal will likely wait until November.
Anyway, I give you more Stats and News about your favourite players in the "Homeland"

CZECHIA:

1. Ex-Blues defender Libor Zabransky has retired from professional hockey. He had been playing with Pardubice and Sparta Praha the past few seasons, but has been suffering through a bevy of injuries.

2. Martin Havlat has still not suited up for a game with Znojmo; He's probably too busy with his 'disgustingly hot' girlfriend :)

3. The big story in the Czech Extraleague continues to be the floundering of a very deep and powerful Pardubice squad. They have 1 point in 6 games and are clearly in last place in the standings. This team was expected to be right at the top, and they don't shown signs of getting better.

Milan Hejduk: 6 games, 0 points, -8!
Ales Hemsky: 5 games, 1 goal, -5
Jan Bulis: 6 games, 1 goal, -3

Maybe they ought to tell these NHLers 'Thanks, but no thanks.' It doesn't look like these 3 have fit in at all and Pardubice may be better off sticking to what their original roster looked like. As is stands right now, Pardubice has a boatload of offensive-minded players floating around, and not enough gritty players doing the dirty work.

The stats...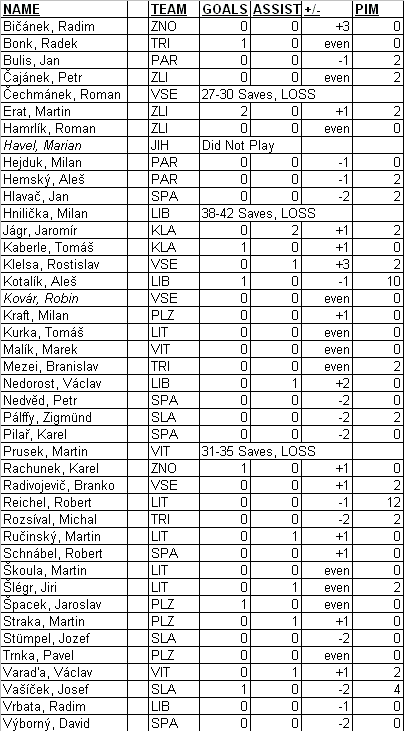 SLOVAKIA:

1.
Lubo Visnovsky
left the Slovan/Trencin game with an undisclosed injury. We?re still awaiting news on how serious it is.
2.
Vladimir Orszagh
played for 1st division Banska Bystrica (his hometown) and scored a goal in a 5-2 loss.
The stats...
Lubomir Visnovsky (Slovan), Injured and finished with all 0?s
Pavol Demitra (Trencin), 2 goals, 1 assist, +4 with 2 PIM
Marian Gaborik (Trencin), 1 goal, 2 assists, +3 with 2 PIM
Marian Hossa (Trencin), 1 goal, 1 assist, +3 with 2 PIM
Martin Cibak (LMikulas), 0 pts, +2 (Returns from injury)
Martin Strbak (Kosice) 1 assist, +3
Ladislav Nagy (Kosice) 3 goals, 1 assist, +4 (First ever Extraliga Hat Trick)
Jiri Bicek (Kosice) 1 goal, 3 assists
Comments:
But prepare for this weekend: on Sunday, Znojmo will face champions from Zlin. Vokoun, Bicanek, Rachunek, Elias and Havlat on the home side, Hamrlik, Cajanek, and Erat playing for Zlin. Also Martin Erat will play against his older brother Roman for the first time, both scored two goals on tuesday. Additionaly, best offensive duo, Slovaks Pucher and Uram (Pucher 1st in league scoring with 3+7, Uram best shooter with 6 goals so far) will face best defence of the league, another Slovak Igor Murin in Zlin's net allowed only 8 goals in 7 games so far. If there is a candidate for most exciting game, this is a top one.
exclusively from Czechia by Misha :)
Post a Comment
<< Home