Saturday, September 25, 2004
Extraleague Update Machine: 09-25-04
Here are the latest news tidbits and stats from Friday...
Martin Havlat (punk),
after giving consideration and indications that he would be playing in Switzerland, has decided to play for the Znojmo Eagles. Apparently, Trinec waffled on the negotiations with Havlat, so he pancaked them and went to Znojmo. Why Znojmo? Well, it's the closest Extraleague team to his hometown of Brno...and since Brno won't have an Extraleague team until 2030, this was a good option for him.
Branislav Mezei (Florida)
has signed with Trinec (Finally, some defense!) and made his debut on Friday. It looks like Trinec has kicked useless
Pavel Brendl
to the curb. Wow, it only took him 2 games!!!
Trinec still lost 3-2 to Slavia in overtime, but at least they got their first point of the year! (Small steps...Small steps)
Zigmund Palffy
has apparently agreed to play 10 games with his hometown of Skalica (He played there during his holdout with the Isles). Details of the arrangement are still sketchy, and he played last night for Slavia.
Zdenko Chara
gave indications that he would play with Karlovy Vary in the Czech League, but he's decided to go to Farjestad in Sweden.
(boo!)
Roman Hamrlik
also made his debut with HC Hame Zlin. He joins the team where his brother, Martin, has been a star for years.
In the 4 games
Milan Hejduk
has played for (now last place) Pardubice, he has 0 points and is -7! I can't say I'm crying hard for him :)
Onto the stats...
CZECHIA: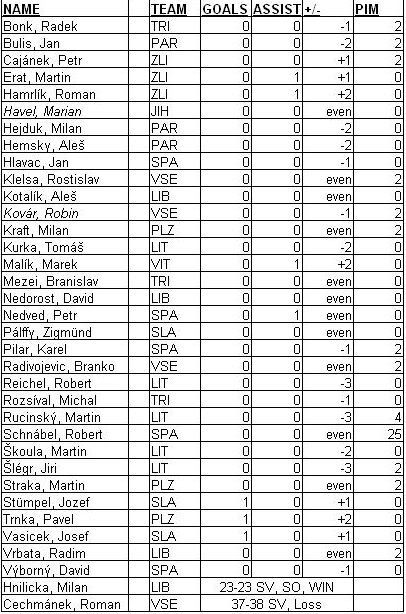 (Edit: David Nedorost should read 'VACLAV' Nedorost. D'oh!)
SLOVAKIA:
Gaborik, Marian (TRE) 2 goals, +1
Demitra, Pavol (TRE) 1 goal, +2
Hossa, Marian (TRE) 1 assist, +2
Visnovsky, Lubomir (SLO) 0 pts, even
Bicek, Jiri (KOS) 0 pts, -2
Petrovicky, Ronald (ZIL) 1 assist, +1 (Made his debut with Zilina in a 2-1 loss)
Comments:
Havlat has always been full of spunk, but he's also been a punk...just ask Mark Messier, after Havlat gave him a few unwated facewashes and yapped about it. Ask Don Cherry...Havly's a punk ;)
Havlat's attitude obviously helps his game, but he is going to get smacked hard one of these days. Plus, he spurned Trince TWICE. :( I'd take Havlat on my team any day, but I'd tell him that if he gets smacked around a little, he will have to fight some of his own battles.
Elias do Znojemsti Orli? Jezis!! :) Slovensky duo Pucher/Uram is one of my favourites...Znojmo would be one of my secondary favourites after Trinec.
Post a Comment
<< Home