Sunday, September 12, 2004
Canada Czeching into the Finals
4-3 Canada in OT...now THAT was a great game, wasn't it?
After rolling through their first 4 games of the World Cup, Canada finally ran into a hungry Czech team that gave them their run for the money. Thanks to a second-effort goal by Prince Vince Lecavalier, the Canadians will now meet those pesky Finns in the finals.
Some random thoughts on the game.


The Czechs are typically known as a team that uses their speed and defensive system to counter-attack. In this game, however, the Czechs were absolute demons down low in the offensive zone. The big players like Dopita, Jagr, and Rucinsky were doing great work along the boards, as were the smaller guys like Hejduk and Cajanek. Looking at the two teams, it's as if the Czechs played a more Canadian style and the Canadians played a more Czech style.


Best Seat in the House? - Normally, standing/sitting beside Wayne Gretzky at a hockey game would be any fan's dream. For Kevin Lowe, however, I have the feeling that he drew the short straw.
Everytime the CBC cameras would cut to Gretzky and Lowe in the press box celebrating a goal or getting excited over a particular play, Gretzky would seemingly hit, punch, and/or shove Lowe. I don't think Gretzky was even that violent during his on-ice days. I guess married live will do that to a guy...


Luongo - He stopped 37 of 40 Czech shots, but the 3-3 goal was Michael Jackson-like BAD. Draper gave the Canucks a 3-2 lead, and Luongo seemingly fell asleep. It's a good thing the 3-3 goal was the last Luongo gave up.


Resiliance - Canadians often get all of the credit for their heart and grit, but the Czechs have often been one of the more patient and resiliant teams in International competitions. No matter the score, the Czechs stick to their system and never seem to panic. The Finns are eerily similar in this regard.


Martin Havlat is still a punk.



Pat Quinn's post-game quote captures the game quite well (and without whining!!)


"We escaped," Pat Quinn said. "I saw tentativeness in our team tonight. I'm not sure why. ? We sure didn't have the focus we needed to have. We did not execute very well, but a lot of that was the play of the Czechs.

"We were fortunate to have survived," Quinn said. "The Czechs played really well. They out-chanced us by quite a margin."





For the Czechs, they probably would have won if they got better performances from Marek Zidlicky and Tomas Vokoun.
For most of the tournament, Zidlicky was a scoring machine on fire...but as it is with feast-or-famine offensive defensemen (Ozolinsh, Lintner, Delmore), these kinds of guys can hurt you in big games when they make boneheaded decisions in the offensive zone. Vokoun...well he's no Hasek, and didn't do his team any favours in this game.

Bring on the Finns...
---
A little news from the Homeland
1.
Trinec is looking at 4
different players to sign in case of a lockout. It seems the Polish duo of Czerkawski and Oliwa is no longer in their sights...so they will focus on Michal Rozsival, Martin Havlat, Radek Bonk, and Pavel Brendl.
Bonk is a shot in the dark, but they could really really really use a defensive center. Trinec has been aggressive with their pursuit of these players, so look for them to make a big splash if the lockout occurs.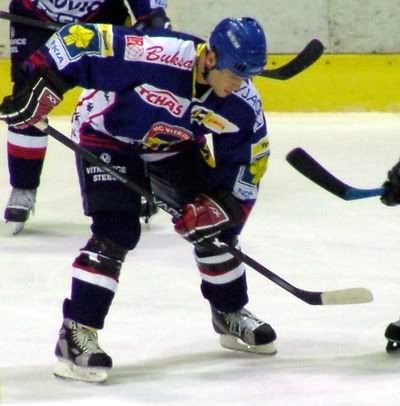 2. Vaclav Varad'a - Varad'a is currently playing with Vitkovice (Pictured) and is close to signing a 2-year deal with the Senators according to his agent, Rich Winter. This pesky bastard had 2 assists in a 4-3 win over Trinec during an exhibition game, and is joined by Pavel Kubina and Marek Malik (who was just at the World Cup) as the NHLers on Vitkovice's roster currently.